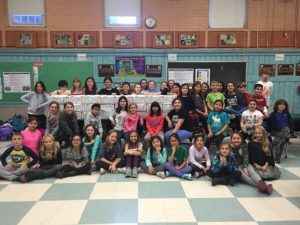 Students at Main Street School worked together on Dec. 6 to assemble 50 care packages for soldiers stationed overseas as thanks for the troops service and sacrifice for our country.
"As we go about our day-to-day lives and activities, our armed forces maintain a watchful eye over us, protecting our nation and defending our freedom. The personal messages of thanks and encouragement mean the most to the soldiers receiving the boxes," said Principal Joyce Chapnick.
The Boodle Boxes will be sent overseas to Major Amy Saal and her troops in Kuwait. In addition, the students will have the opportunity to Skype with Major Saal later in the year.