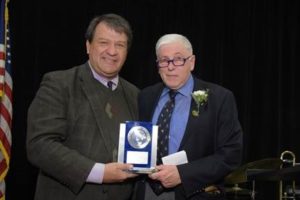 Westchester County Executive George Latimer honored the achievements of George F. Gumina, Founder of the Friends of Rockefeller State Park Preserve at the 36th Annual Senior Citizens Hall of Fame.  The Pocantico Hills resident was inducted into the Hall of Fame and honored with the inaugural Golden Apple Achievement Award for his significant contributions to enhance Westchester's quality of life through professional and volunteer achievements.
Gumina has served as the Founder and President of the Friends of the Rockefeller State Park Preserve, a nonprofit organization whose purpose is to help maintain the Preserve beyond the State's limitations. He has also worked as the Philanthropic Coordinator for the Town of Greenburg for 21 years, a position he established along with Town Supervisor Paul Feiner, securing grants and donations to support numerous community-based social, educational, environmental, cultural and recreational programs administered by the Town, including those for "at-risk" youth, after school enrichment, summer internships and adult and senior programs.
The Senior Hall of Fame began in 1983, the 300th Anniversary of Westchester County's founding. Its purpose was to showcase how seniors have contributed to building the County. More than 1,100 seniors have been inducted since then.