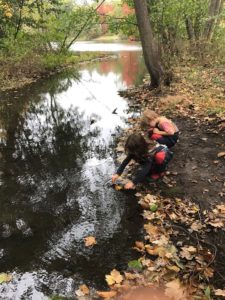 Fremont Pond in Sleepy Hollow is a great natural resource for those who live near or around the lake. Local residents often stop by to enjoy its beauty, and commuters pass by it every day on their way to and from work.
Besides ducks and geese that can be seen on the lake, snowy egrets, ospreys, eagles and other interesting birds are frequent visitors. Sunfish, bluegills and largemouth bass can be found in the lake as well as large turtles. It creates habitat and filters water entering the Hudson. It is a resource worth protecting.
In January 2018, the Village of Sleepy Hollow created the Fremont Pond Committee in response to the community's concern about algae blooms on the Pond. The Committee started the Friends of Fremont Pond, supported the Village of Sleepy Hollow's grant applications, worked with Peabody Preserve Outdoor Classroom (PPOC) and TUFSD to incorporate the school and students, and planted over $1,000 worth of native plants donated by Rosedale Nursery.
Because of the community's commitment shown to Fremont Pond and previously by creating PPOC, the Village of Sleepy Hollow received a grant from the NYS Department of Environmental Conservation to improve water quality flowing into Fremont Pond through PPOC. The grant plus money matched by the Village of Sleepy Hollow is approximately $390 thousand.
The project addresses pollution flowing into Fremont Pond with two approaches: green infrastructure and education. The infrastructure includes bioswales, wetlands, and riparian buffers to be planted in PPOC, along with informational kiosks. The educational portion includes collaborating with TUFSD, PPOC, and Friends of Fremont Pond to educate school children and property owners. We hope this project will create a beautiful natural area that filters water flowing into Fremont Pond, demonstrate how beautiful sustainable gardens can be, and inspire future generations through real world learning experiences.
The next community event hosted by the Friends of Fremont Pond is a Healthy Yards Workshop on March 16. Dr. Diane Lewis, who wrote the book on "The Healthy Yard Project", will explain how to have a beautiful yard without using harsh chemicals that will travel into our watershed. Come join us to see what else can happen when a community unites together. Get more information on the Friends of Fremont Pond Facebook page or by emailing FriendsofFremontPond@gmail.com.