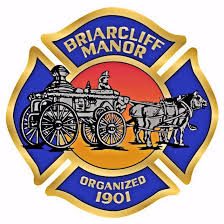 Former Briarcliff Manor Fire Chief Robert Michael Garcia was sentenced to a year and a day in federal prison Friday, six months after he pleaded guilty to embezzling more than $120,000 from the village department.
Garcia wrote about 150 checks to himself from the accounts of the Briarcliff Manor Fire Department and the Briarcliff Manor Fire Council.
The embezzlement cost Briarcliff about $800,000, according to a memo submitted to the court by Village Manager Phil Zegarelli. That includes $333,385 that's still unaccounted for, $105,143 for a forensic audit and over $16,000 in legal fees.
"His actions are nothing short of a premeditated, cold-hearted stab in the back, purely for his own personal greed and petty wants," said 1st Asst. Fire Chief Peter Fulfree. "Robert M. Garcia has damaged our good reputation among our peers in the fire services throughout the state and has stained our good works in the community in which we live."
"Robert Garcia lined his pockets with Briarcliff Manor Fire Department and Fire Council money to pay personal expenses, and then lied about it to cover his tracks," said U.S. Attorney Geoffrey Berman. "Now Garcia will go to prison for his crime.
Garcia was also ordered to pay a $20,000 fine when he was sentenced Friday afternoon by U.S. District Judge Cathy Seibel in White Plains, in a courtroom filled with members of the department, who felt betrayed by their firefighter brother.
Garcia apologized to his fellow firefighters.
"I am deeply ashamed," he said. "I made a huge mistake. I don't know why it happened, but it did happen. I thought I had paid it back."
Garcia's embezzlement was discovered in 2017, after he was promoted from treasurer of the Fire Council to chief of the Fire Department. He resigned abruptly in September after his successor at the Fire Council, Vincent Caruso, flagged discrepancies in the books.
Briarcliff hired forensic accountant Dennis Kremer to review the department's books, which led to new policies to tighten up reporting requirements. The village put together volunteer committees of financial experts and attorneys to review how the department spent its money, and accounted for it.
Two signatures are now required for department checks, and the Fire Council books are accessible to others on the panel, a change in policy from the Garcia years.
Fulfree said the department and the Fire Council will undergo annual audits by outside firms, while the books with be audited internally each quarter to ensure that another treasurer doesn't do what Garcia did.