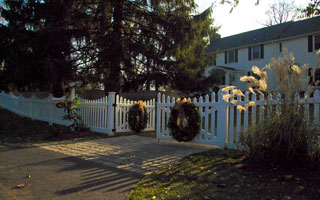 The Festive Stroll of Homes will be especially brilliant this year in honor of the Ossining Children's Center's 120th anniversary.   Myriad volunteers have been working on the stroll for close to a year under the guidance of the Stroll's sponsor, Sue Bicksler Taub of Holbrook Cottage,
to assure that this 14-year tradition – which has already raised over one million dollars for local charities, will be a standout.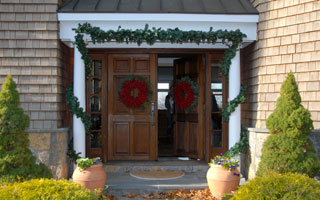 All homes on this year's tour are beautiful and unique, and all are located in Briarcliff Manor. Each will be decorated for a different upcoming holiday, Thanksgiving, Christmas or Chanukah.  In addition to the design team at Holbrook Cottage, local designer Roberta Socolof of Hudson Interiors and John Gualtiere of Hudson Landscape will be contributing their design and decorating skills to this year's stroll.
One house, a Mid-Century modern, is unique to Briarcliff, if not all of Westchester County.  Typical for homes of this era, which was heavily influenced by Frank Lloyd Wright, there is a strong sense of integration between the indoors and the outdoors. The same stacked stone on the exterior of the house is repeated on the indoor fireplace.  Nestled in a woodland setting, the south side of the house features a wall of windows, seamlessly connecting the exterior to the interior, and creating a dialogue between the spaces and an experience with nature.    The house has had a historical renovation, keeping the original footprint and mid-century sensibility, all with a careful eye on the surrounding landscape.  It is, says the owner,  "What you would expect to see on the West coast." "Think Mad Men," she elaborated, "but thankfully with some modern updates."
This house will be decorated with natural and woodland Christmas decorations, accented with subtle shimmers of gold, silver and green.   Look for clustered table- top trees, a recurring theme throughout the tour. 
As the tour continues on the property, along a rock path and further back in the woodland landscape, the mood shifts as you enter the playful pool house.  Here, the Christmas decorations are more "pop art" than natural woodland, in colors of turquoise, yellow and orange, in keeping with the existing décor.
"Why," I asked the homeowner, " did you agree to open your home for this year's Festive Stroll of Homes?"  I believed it to be a reasonable question considering all the sacrifices and/or work involved in making one's home available for a two-day house tour.  There must be an invasion of designers, decorators and their assistants for weeks if not months in advance.  Something like a hundred strangers could be walking through their once-private space.  And, how does one tell their husband, children and pets that the house is off limits that particular weekend?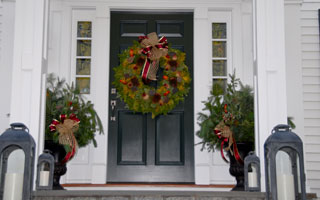 The owner's response was as enthusiastic as the task seemed daunting:  "Oh, I am so proud of Briarcliff!  We moved from the city, knowing no one here.  I'm from Texas; my husband from England.  That first year someone from my daughter's nursery school invited me on the Festive Stroll.  It was such a positive, welcoming experience, so inclusive.  It was a great way to be exposed to the Village."   And now she's excited to be doing her own part to create a welcoming experience for others in the Village and surrounding areas.  "I am thrilled to be a part of this event, she said.  "The Ossining Children's Center is such a valuable organization for families in our community.  I am honored to have the opportunity to give back a little."
The next home will be decorated for both Chanukah and Thanksgiving.   It has a very open floor plan with lots of light that is conducive to the homeowners' frequent entertaining.  It is also a wonderful backdrop for their extensive art collection, which includes a collection of lithographs, passed down to the homeowner by her parents, by such well known artists as Andy Warhol, Marc Chagall, Salvatore Dali, Joan Miro, Roy Lichtenstein, Jim Dine, Red Grooms, James Rosenquist and Alex Katz.  There is even a Lichtenstein depicting the Oval Office that was used as a fundraiser when Clinton was running for President.  The homeowners have added to the collection with wonderful paintings and objects gathered during their extensive traveling, as well as additions from local artists and galleries.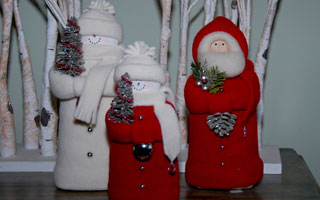 A rich family heritage contributes to other lovely collections on display, including a mother's china collection and Royal Copenhagen Flora Danica serving pieces.
The house, which the homeowner says is decorated in a transitional style with Asian accents, has been decorated by local interior designer Roberta Socolof of Hudson Interiors, who has worked with the homeowners for many years helping them create their home interior.  Mrs. Socolof states that her approach "has been to keep furnishings neutral to harmonize with the colors in the fabulous modern art collection."  She continued that "in keeping with the homeowners' personal style, the goal for the Stroll is not to over decorate but to share the family's tradition of having a wonderful holiday season while giving to others as well."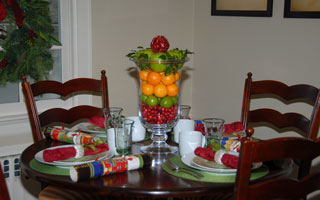 In a clever approach to sharing their holiday traditions and also giving back, this home will be decorated with vignettes throughout the house reflecting the spirit of Chanukah and Thanksgiving.   As Mrs. Socolof describes, " The living room will have a display of menorahs while the family room will include many beautifully wrapped holiday gifts that will be donated to The Ossining Children's Center.  The dining table will be set for a Chanukah feast.  The kitchen décor will feature a Thanksgiving and Chanukah environment, with the table being festively set for Thanksgiving, and a game of spinning the dreidel for chocolate coins, or gelt, will be set up on the kitchen counter."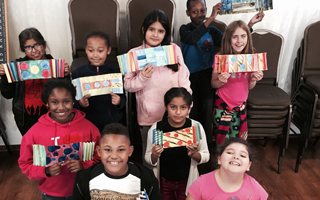 Another area of the house will reflect Mrs. Socolof's recent work with the 9-12-year- old students at the OCC.  There will be a display of the children's watercolor paintings, done in their interpretation of the work of Israeli artist, Yaacov Agam, who is best known for his contribution to optical and kinetic art.  (see photo of OCC children painting in his style)
These homeowners have been in Briarcliff for over 20 years.  They, too, were opening their home, and again I braved the question, "Why?"  Again, no hesitation: "I love to support and give back to the community," she stated, showing this to be true early in the process by asking what specific gifts could be used for the children at the Center this holiday season.  (Gifts were used in the Chanukah scene with festively wrapped gifts.)   She also emphasized that she liked to share her traditions. Her home will reflect the foods and traditions associated with this holiday, and her personal collection of menorahs will be on display, along with those of close friends. "I love to see friends' Christmas decorations, and they enjoy coming to our house.  I'm a firm believer in sharing traditions," she concluded.
The next house presents an entirely different feeling.  It's a traditional large colonial decorated for Christmas.  Sue Bicksler Taub emphasizes that this home will present "An elegant Christmas with tones of blue and silver.….reminiscent of Clara's Palor in the Nut Cracker." The living room and dining room are done in shades of blue and ivory.  Holbrook Cottage will design decorations to enhance this elegant setting using platinum, silver and ivory.  A horse-drawn carriage with Victorian carolers will be featured in the entranceway.  Garlands adorned with platinum ribbons and silver glass ornaments will dress the staircase.  The tree in the family room will be decorated with Santas, each one handmade by artisans from Minnesota. 
In addition to the numerous décor pieces that have been acquired over the years, from Holbrook Cottage, and another designer, there is also a strong family heritage influence making an impact in this home.  The owner's mother-in-law's involvement with the Westchester Historical Society, has led to many unique and wonderful collections that are part of the Christmas decorating tradition.  There is a display of stockings that have been knit over the years, as well as unique sleigh and Santa collections that add warmth and interest. 
"For the most part I have been a traditionalist," says the homeowner.  I love a warm, comfortable and inviting feeling in our home.  This is a wonderful neighborhood[in which] to raise a family," which includes their two Golden Retrievers.  "Our door is always open."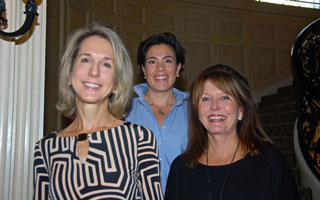 "But, why," I asked did you agree to open your door to all of the Festive Strollers?  After echoing some of the other homeowners' accolades for the importance of the Ossining Children's Center, and her interest in supporting its mission, as well as her respect for the Stroll, she said, "I couldn't say no to Sue!"
And indeed, few would want to decline an invitation from Sue Bicksler Taub, to participate in the rich history of the Festive Stroll, started over 14 years ago with only Sue and Joan Neccis, who opened their homes for the very first stroll, which has since raised and donated over a million dollars to local charities.  It has become not only a favorite kick-off to the holiday season in our area, but a highly regarded and eagerly anticipated event.  And what better time than this milestone, when the Festive Stroll of Homes is Saluting the Ossining Children's Center on its 120th anniversary, to join in this wonderful tradition?
The festivities continue after the stroll each day with a reception at Holbrook Cottage, the presenter of the Stroll.  The Stroll Committee is excited that Peter Kelly will be at the Cottage on Friday, November 20 from 2:30-4:30.  Guests will enjoy a festive winter drink, an additional salute to the snowflake theme of this year's stroll, and also receive their favor, a delightful English shortbread frosted snowflake cookie. A portion of all sales on both days will be donated to the Ossining Children's Center.
House Tour Details: Friday, November 20, 10:00AM to 12:00 Noon & 2:30 pm to 4:30 pm; Saturday,November 21, 10:00 pm to 3:00 pm; Luncheon at Sleepy Hollow Country Club:
Friday, November 21, 12:00 Noon-2:00 pm
Tickets: Luncheon & Stroll $175.00/ Stroll only $60
Reservations may be purchased on line at www.ossiningchildrenscenter.org and at Holbrook Cottage, 1253 Pleasantville Road, Briarcliff Manor.  (914-944- 0734)