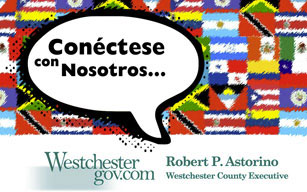 County Executive Robert P. Astorino has partnered with El Centro Hispano to connect the Spanish-speaking community with all the programs and services offered by Westchester County. "Conectando con la Comunidad Hispana," which is free and open to the public as part of Hispanic Heritage Month, will begin at 1:30 p.m. Sunday, September 28 at El Centro Hispano, 346 S. Lexington Ave., White Plains.
"Westchester County offers more programs and services than most people even realize," Astorino said. "We want residents to feel connected to their county government, and to know that we are here working for them every day. This event will give Spanish-speaking residents a chance to speak directly with our department heads, and to walk away feeling empowered to achieve their goals – whether it be to advance in the job market, get in better health, find enrichment opportunities for their children or any other number of worthy aspirations."
Representatives will be available to answer questions and provide information from the following Westchester County departments: Social Services, Health, Human Resources, Youth Bureau, Office for Women and Human Rights Commission.
For more information, please contact Katherine Delgado, Astorino's Immigrant Services Liaison and Deputy Chief of Staff, at (914) 995-2946 or kdelgado@westchestergov.com. Refreshments will be served.
"El Centro Hispano's mission for the past 40 years has been to assist, support and strengthen the Hispanic community by offering a variety of bilingual opportunities throughout the year," said Isabel Villar, founder and executive director of El Centro Hispano. "I strongly encourage the community to seize the opportunity to connect with Westchester County Government. The County will be providing this valuable information to the community on September 28th."
"Conectando con la Comunidad Hispana" is the latest in an ongoing series of events organized as part of Astorino's outreach to the Hispanic community.
In May, Astorino announced during his State of the County Address that Delgado would assume the new role of Immigrant Services Liaison, in addition to her current duties as Deputy Chief of Staff. The goal is to break down cultural and language barriers, as well as help new residents steer through government bureaucracy.
Founded in 1974, El Centro Hispano is a White Plains-based nonprofit whose mission to strengthen the Hispanic community is accomplished by offering a variety of bilingual programs throughout the year. These include educational programs; health, housing and employment referrals; immigration referrals; counseling and advocacy; mentoring and tutoring programs; English language classes; technology classes, high school scholarships and more.
To learn more about El Centro Hispano, call (914) 289-0500 or email elcentrohispano1@aol.com.