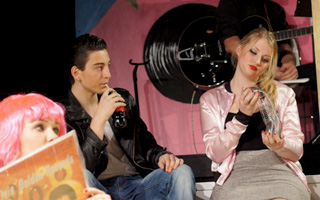 Tarrytown's EF International Academy offers foreign students of all ages the opportunity to pursue their studies on American soil. But what exactly is the draw of obtaining a diploma in the United States as opposed to the various countries that these students call home? One student gives his answer.
Sixteen-year old Salomon Lupo looks older than his age would indicate. About to begin his senior year at EF, the Napoli-native possesses an air of maturity that can only be found from being instantaneously immersed in a foreign culture. For a school with a wide diversity ranging from Chinese to Mexican, African to French, Salomon ended his Junior year at EF as the sole Italian student. His heritage is something that he wears proudly. "It's nice here," he remarked coyly, "just not as nice as Italy."
The first child of his family to pursue his studies in the United States, he is very much aware of the importance of an American education. So what singular reason draws  foreigner students to the US every year? The same variable that prompted Salomon to do so: opportunities.
From his words, America still maintains the reputation of being chock-full of them. It is a reputation that has lasted seemingly untouched for years, and one that still proudly rings true for the hopeful throngs of young adults who come here to study.
"In Italy, even the top universities rank about 200th worldwide," Salomon noted. "There are definitely more opportunities here."
Salomon's course-load includes economics, engineering, and even Mandarin. "Chinese is important for the business world," he stated. Engineering and economics being his desired fields of study, he spoke about his wish to continue to pursue them post-graduation in May of 2013. Coming from a family that specializes in the business and engineering world, his love for the subjects only seems natural. He spoke of his interest in his field of study as always having wanted to "create something new."
The demands of any school can be tough, but to be thrown into a foreign academic system definitely takes mental strength. Considering this, Salomon has found an extensive list of extracurricular activities in which to immerse himself. "There's rugby, soccer, volleyball, and drama," he noted. Drama being an area of interest for him, he remarked how he performed last year in their production of Grease. "It was a lot of fun." If the smile on his face was any indication, then it certainly proved that theatre involvement is something that can be enjoyed by anyone, regardless of academic pursuit.
Not only does the EF school offer an American degree, but it does so on the doorstep of one of the world's most sought-after cities – New York. Students are seen daily heading down Neperan Road in pursuit of a Grand Central-bound train. If America stands in their minds as the Mecca for a well-rounded education, then the Big Apple surely symbolizes their gateway into the workforce. Salomon remarked on his time spent in the City, noting that two of his favorite haunts were Times Square and Rockefeller Center—the latter certainly standing as a symbol of American prosperity.
As much as it is easy to be disheartened when faced with grim economic statistics, the sentiments of these young students comes across as humbling above all else. The fact that the United States of America still stands as a global gateway for education and future goals is something to take great pride in. Above all else, America is still known as the land of opportunity. "I am not disappointed," Salomon stated firmly about his decision to study here. That truth was followed by a warm and sincere smile.