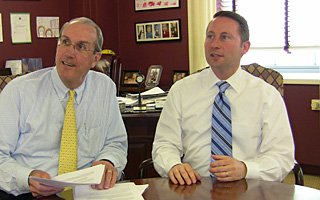 Let's start at the end of this interview and then move forward. County Executive Rob Astorino alluded to the fact that Westchester County government has not always been transparent in its workings with the very constituents it is mandated to serve. It has also been said that the office of the County Executive, located on the ninth and top floor of the Michaelian building in White Plains, has been perceived as insular in years past.
Fast forward to the beginning of the interview, and seated comfortably is Rob Astorino, in his second year as Westchester's County Executive. To his right is Edwin (Ned) McCormack a senior advisor as well as the Director of Communications. To the right of McCormack, is Tarrytown's Kevin Plunkett, the Deputy County Executive and Chief Operating Officer. The mood in the room is light and open and Mr. Astorino is gracious and welcoming.
His State of the County address on Thursday, April 7, has defined Westchester County as both "fortunate and fragile." Fortunate in that the County has as its greatest strength the very people it needs to be an "intellectual capitol." People who will focus on the future, create means for greater efficiency and share common interests. In short, people willing to give up the perennial "me" and begin to see the "we" of things.
The other side of the equation, the fragility of the County, has best been described in Astorino's claim that, "Westchester County is perilously close to breaking." Looking further up the pipeline to Albany we asked him to clarify the need for State mandate reform – in other words, the programs that the State mandates Westchester pay for. At this juncture 75 cents of every dollar raised in County property taxes is spent on State mandated programs. "First and foremost the State and only the State can change that. They have to bring the relief to the local taxpayers and local governments by taking more control of their own programs. What they [legislators] love to do is keep every program in place and not cut, but shift – shift the expenses from the State to the local municipalities and send us a bill. We have no cost containment basically because we are mandated to operate these programs and we have to. It's very frustrating in that we just get a bill that says do it and pay it. It's very difficult to manage those kinds of operations with very little control or say about it," Astorino stated.
In his State of the County message the County Executive mentioned that $548 million are generated by property taxes. State mandates cost the County $416 million, and when rising healthcare and incidental costs are factored in, Westchester County has projected a $103 million deficit for 2012. Simply put, that's the difference between County revenues and County expenses.
"Clearly the mother of all mandates is Medicaid. Right now it is $211 million. Almost 40% of all property tax dollars goes just to pay Medicaid. It's almost $5 million a week that goes from the County to the State, and again we have little or no control over this massive entitlement program. The State government continuously expands eligibility and we have to administer it. All the recipients come to the County and we have to deal with this on a daily basis," Astorino said. When asked what he wants the State to do specifically, the County Executive was emphatic and clear. "Either give us more flexibility to manage Medicaid and control costs or they [the State] should be taking control over the program entirely. All other 49 States do that. They [other States] don't share the costs for the burdens of the program administratively with their counties. New York is the only one that does that. So again the State can continuously say yes to everything and everyone without having to worry about the ballooning costs. So if they were to take it over as we all have been demanding that they do, just like every other state, then they would have to get their own fiscal house in order. Right now there is less incentive for the State to do so. And that is a big burden on the taxpayers," he said.
The question then shifted to how the State would begin to get its fiscal house in order. Astorino chuckled knowingly and said, "They would have to face reality which they are not doing today. They have the blindfold on and they push all the tough decisions down the road and all the costs down to the counties." It was at this juncture that Deputy County Executive Kevin Plunkett added, "The programs that are mandated by New York State to the counties are much greater than the programs mandated by the Federal Government. The State would have to take a hard look at the extra mandates and decide if the programs should actually continue based on economic realities." What makes New York's Medicaid a richer program for recipients is the eligibility and the coverage. Comparing New York's program to other states, Plunkett added,  "It's a Cadillac when every one else has a Chevy."  With a smile Astorino said, "If the Cadillac's not working the State breaks out the Rolls Royce."
The focus of the interview then shifted to our local governments in Irvington, Tarrytown and Sleepy Hollow and the school boards as well, that are faced with increased healthcare costs and pension benefits each and every year, all of which translates to ever rising village and school budgets that fall squarely into the laps of tax payers. When asked about where they can get relief, Astorino replied, "The first thing I say is that I feel your pain because we are all dealing with an explosion in the pension costs and yet again the State has not confronted reality and continuously allows these costs to escalate at a far greater rate than inflation. Once again they send a bill that is due at the end of the year that must be paid. The costs have exploded so much that it has put a strain on all other services. The only ability the State gives [Counties] to pay the bill, if you can't pay it all at once, is to borrow from them at 5% interest. There are probably a lot of municipalities and school districts that could borrow on the market for less than 5% interest. So this is the complete inefficiency and waste of New York."
The pension system in New York State is broken. "We have to move from a defined benefit program which is a guaranteed set of returns for pensioners, to a defined contribution which is more market-based," Astorino mentioned. He wants pensioners to have some "skin in the game." The way benefit programs currently work, taxpayers pick up any losses in pension plans. Once again New York State has shown no desire to alter pension plans, according to the County Executive. "We should be going into a real legitimate change so that future employees will start contributing more and have better options." This will, in Astorino's words, "be far more fair to the taxpayer."
When asked how this "legitimate change" would come about Astorino said, "The Governor and the State Legislature do not have the stomach to fight the unions on this. I don't understand why the unions would not agree to this because we are not talking about current employees but future employees. We are talking about fixing a system that is clearly broken and is not sustainable, and everyone knows that. This would benefit everybody if we had a healthy pension system. It could be afforded by the taxpayers for employees for a long, long time; but right now it's going to collapse. Just look at General Motors. It collapsed in part because of a pension system that was broken and GM could not afford it anymore. They collapsed with a fringe benefit rate of 37% [health care and pension costs] for each employee. We're collapsing with a fringe benefit rate for each employee of 55%." For 2011 the average cost of a Westchester County employee is $117,000.
County Executive Rob Astorino realizes that taxpayers cannot continue to deal with rising taxes. He also has stated that both the State, County and local municipalities are dealing with a labor force that they can't afford anymore. There has to be a new way of thinking and a new direction with regard to healthcare and pension benefits.
For his part, Mr.Astorino will "walk the walk" and has pledged that there will be no property tax increase next year as well, even though the County is looking at a $103 million deficit. He is committed to building a "new operating model" for County government that will focus on "self-reliance and existing resources." That's an agenda taxpayers can relate to.