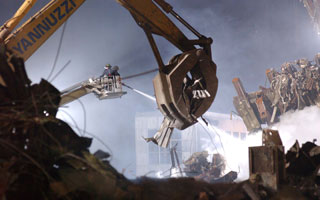 9/11 National Day of Service – Volunteer Projects coordinated by The Volunteer Center
From September 9th through September 15th The Volunteer Center has worked with nonprofits in Westchester, Putnam and Rockland to develop service opportunities where hundreds of people can give back.
Projects include blood, book & food drives; art projects to commemorate heroism; trail and park clean ups; veteran and military outreach; a special presentation & discussion of New York Says Thank You (which premiered at the Tribeca Film Festival), which poignantly illustrates how New Yorkers gave back to others throughout America in the year's since 9/11.
There was huge focus on last year's 10th anniversary. We believe every year is important. The families of victims worked tirelessly to established support for the creation of the National Day of Service. Last year, in a span of 5 hours, 1,000 people came to the Westchester County Center to volunteer and learn about the ongoing needs of nonprofits.  How can we do less one year later?  Projects are taking place at more than 25 nonprofits in Westchester, Putnam and Rockland, including on 9/11 at The Rising memorial to local 9/11 victims at the Kensico Dam Plaza in Valhalla.
Sign up for a project today! www.volunteer-center.org/service
Schedule
September 11 (various locations)–
Kensico Dam Plaza, Valhalla 2 pm to 7 pm
Canned goods drive benefitting Hope Community Services in New Rochelle
Gently used fiction paperback, suitable for men and women deploying out of Fort Drum NY (over 2,000 books already collected); Shleppers Moving & Storage will transport books, stopping in Albany for additional contributions
Card-making & support letters for soldiers
Memorial service honoring local victims, "The Rising", presented by Westchester County – Nanuet, 9:30 am to noon and 1 pm to 3:30 PM
Food pantry closet/clothing sorting with People to People – Purchase, 6 pm to 8 pm
Manhattanville College, poetry writing to be presented to veterans – Orangeburg, 2:30 pm to 5:30 pm
Dominican College, poetry writing and art project – White Plains, 4 pm to 6 pm
Remembrance Quilt project at YMCA – Port Chester, 10 am to 2 pm
Clothes sorting at Sharing Shelf of Family Services of Westchester – Montrose, 2:30 pm to 4:30 pm
Job readiness project for Veterans
Additional projects throughout the week:
September 12
Westchester County Blood Drive , 9 am to 3:45 pm, White Plains County Center
Trail maintenance, 2 pm to 4 pm, Cranberry Lake Preserve, North White Plains,
September 13
Book sorting, 10 am to 2 pm, JCY Westchester Community Partners, Yonkers Riverfront Library
Emergency Response Presentation, 5 pm to 7 pm, Yonkers
September 14
Clothes sorting, 9 am to 2 pm, Yonkers Council of TPA/PTSA, Yonkers
September 15
Art Project, 1 pm to 2:30 pm, Richmond Community Services, Yonkers
Movie and panel discussion "New York Says Thank You," 2 pm to 4 pm, White Plains Library
Trail clearing, 9 am to 2 pm, Manitoga Russel Wright Design Center, Garrison
The Volunteer Center of United Way
220 White Plains Road, Tarrytown, NY 10591 T. 914-948-4452 www.volunteer-center.org
[blockquote class=blue]River Journal would like to thank Firefighter John Leavy for permission to use his photographs. [/blockquote]