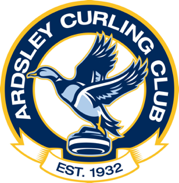 Just about one year ago, the US men's team surprised the world by bringing home Olympic gold in the sport of curling. Since that time, team member Tyler George has been traveling around the country, serving as an ambassador to the sport and encouraging club growth in local communities. The next stop on the tour is the New York area – specifically, Ardsley-on-Hudson. Events taking place February 2 and 3 include teaching sessions with club members and on-ice public events geared toward introducing this unique Olympic sport to the River Towns.
George, vice-skip of the team and a native of Duluth, Minnesota, has a long history of international championship play beginning at the junior level and culminating with the highly publicized win for the US men's team at the 2018 Olympics in PyeongChang, Korea. "I am so honored to have the opportunity to share our story of the gold medal win and my love for this wonderful sport with others around the country," said George. "Our historic Olympic win was the highlight of my curling career and I hope to inspire others to give it a try. Curling is a great sport at any age. I'm really looking forward to spending time with friends, both new and old, at Ardsley."
Curling is an ancient sport in which players slide stones across a sheet of ice towards a target area similar to a bull's eye. It is a complex version of shuffleboard and is often referred to as "chess on ice" for the strategic element of the game. It is a very physical game requiring players to "sweep" the ice in order to control the direction and distance of the stones. After years of being included as a demonstration sport at the Olympics, men's and women's curling were officially added to the Olympic program in 1998 in Nagano. The US gold medal win brought even more attention to the sport and the team became the darlings of the winter games.
Public events for the weekend include multiple 30 minute on-ice sessions scheduled for Saturday, February 2 and Sunday, February 3. Interested persons (age 12 and older) should register in advance at www.ardsleycurling.com.
Founded in 1932, the Ardsley Curling Club is one of the oldest curling clubs on the east coast. Less than 30 minutes north of New York City, the club is home to many nationally and internationally ranked players and is considered the regional hub of the sport.