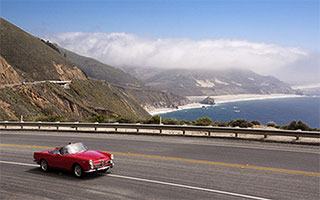 Now in its fourth year, "An Evening of Food, Wine, Martinis and Fine Friends" will introduce guests to wines from along the Pacific Coast Highway Wine Route, Thursday, April 25 at 6:30 pm, at Tappan Hill Mansion, 81 Highland Avenue in Tarrytown. A benefit for Phelps Memorial Hospital Center, the event will also feature hearty hors d'oeuvres, a silent auction and a selection of martinis for those who prefer them to wine.
Tastings will take guests on a virtual tour of vineyards in Northern California, then down the coast, stopping to sample wines in Monterey, Big Sur, Paso Robles, San Luis Obispo and Santa Barbara.
Wine columnist Nick Antonaccio, who is organizing the evening's adventures, says the growth in Pacific Coast vineyards point to a reawakening of interest in American wines. "We'll be sampling a wide range of Chardonnays, Sauvignon Blancs, Cabernets, Pinot Noirs, and Red Zinfandels," he said. "The atmosphere will be a relaxed get-together of neighbors and friends who enjoy trying new things and supporting their community hospital."
More information and tickets at $150 per person, or $250 per person for a VIP pre-event private tasting, may be obtained by contacting Phelps Special Events Manager Marissa Coratti at 914-366-3104 or at mcoratti@pmhc.us. Reservations can also be made online at www.phelpshospital.org.
Phelps Memorial Hospital Center is a 238-bed community hospital with 450 medical staff, representing 50 clinical specialties. Phelps was the first Westchester satellite for Memorial Sloan-Kettering Cancer Center and is a member of the Stellaris Health Network. www.phelpshospital.org.