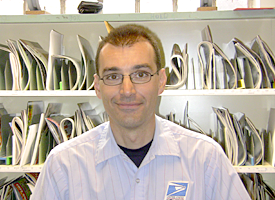 Chris Cinnamo has been a Letter Carrier in Sleepy Hollow working out of the Tarrytown Post Office for 13 years. He is well respected, polite and reserved. So, when he saved a customer's life he didn't want a pat on the back or any extra attention. His postmaster and supervisor thought differently, however.
"Chris is one of those good guys. He cares about his customers, his co-workers and his family," said Tarrytown Supervisor Allison Matthews. "We are very proud of him and want to make sure he knows that we care about him too," she added.
Cinnamo knows his customers well… so well, that he knew that when one of his more frail customers, Alice, did not pick up her mail from Saturday and it was now Monday, he sensed something was terribly wrong.
"I have been on this same route for five years and never has Alice missed a day taking her mail out of her mailbox," Cinnamo said. Since Alice lives in an apartment building, Cinnamo went down the hall to her door and knocked. He heard a faint cry, "Help me. I can't get up." Not having his cell phone with him, Chris ran to the Police Station around the corner. They came and entered through Alice's window. "He saved my life. I can't thank him enough," said Alice.
As he walked along his route, customers stopped to shake his hand and thank him. "He's one of the best," said Laura Rey Iannarelli. "My parents are also on his route and he keeps an eye out for them. It makes me comfortable to know someone is out there who cares," she said.
Tarrytown's Postmaster, Mary Rose Brish, recently recognized letter carrier Chris Cinnamo with an award for his valiant effort and exceptional community service.