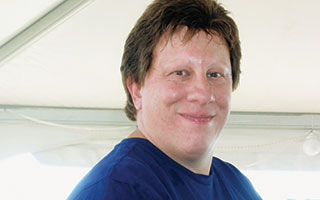 DeCecchis Electric has been providing electrical services to area businesses and homeowners since 1993. Born and raised in Tarrytown, Chris gained insights for running a business and supporting the local community from his parents, who ran a local real estate company for 40 years. Inspired by electricians hired by his parent's to renovate their office space, Chris DeChecchis decided to pursue his career as an electrician. He was fascinated how the knowledge of electricity came together with wiring skills to make everything function smoothly.
At right, Chris DeCecchis
Licensed and insured, DeChecchis Electric understands the importance of finding the fastest or most economical way to do a job using reputable materials while being as neat as possible. They perform work efficiently with the least amount of intrusion. The staff of electricians are professionally trained and educated, so every job is executed with confidence. Because clear communications are a priority, clients' projects are explained
and reviewed in an easy-to-understand manner.
One recent innovation increasingly adopted for residential and business lighting applications is the use of LED's (Light Emitting Diode). Chris shared, "LED's save on electric bills by requiring 1/6 less wattage, while providing a brighter light with warmer color." One tip that Chris recommends would be to install an LED bulb in a hard to reach location such as a light fixture above a stairway or high up on a vaulted ceiling.
Because LEDs last longer, there would be less need to have to change it.
Available for all residential and commercial jobs, DeChecchis Electric is located at 17 Neperan Road, Tarrytown, NY. For an estimate on your next electric project, call 914-631-6751, or e-mail dececchiselectric@verizon.net.