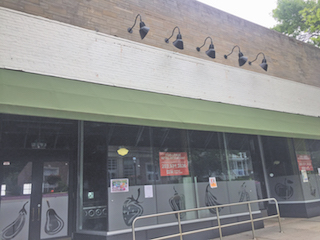 If Tarrytown has become a "destination" you couldn't prove that to the retailers and merchants who have closed shop, moved out and moved on. On Broadway, from Main Street to Dixon Street, five businesses have vacated, leaving small and large windows of emptiness for passing pedestrians and motorists.
On April 30 two of the larger landlords, namely Coco Management Inc. and Kaufman Tarrytown Company, LLC, had their attorney, Richard O'Rourke from the Keane & Beane law firm in White Plains, address Tarrytown's Planning Board. The presentation was a "Concept Discussion," for 39-51 North Broadway which encompasses two large and vacant properties, the former Bolton's and Mrs. Green's.
In essence Tarrytown's Planning Board was asked for feedback as to their receptiveness on a 225 residential unit structure with multi-level parking that would include 400 parking spaces of which 175 would be earmarked for municipal use.
The firm of Sullivan Architecture, PC produced a handout detailing the overall look of the project which included 50 studio
apartments, 140 one-bedrooms and 35 two-bedrooms. Beneath these units would be 35,420 square feet of retail. Diagrams revealed 7 levels along with a roof level floor plan. A rendering reflected higher density residential to be located in centralized locations above the parking structure. A "massing study" pictorially revealed the highest points of the structure looming above existing homes and businesses on Dixon Street, Dixon Lane and Central Avenue.
An aerial photo revealed 96% of the existing site covered with buildings and pavement. There are two zoning areas that divide the property, and according to the architect, their Master Plan will raze and replace everything excepting the Lyceum Building. Planning Board member David Aukland commented that "there is a major conflict with zoning particularly with height." Tarrytown, according to Mr. Aukland, is committed to preserving viewsheds. Joan Raiselis, another Board member, mentioned that leaving the Lyceum building's façade intact is a plus.
After other Planning Board members raised questions and discussed the concept proposal, the project architect, John Sullivan, mentioned that he "would like to take the concept study and advance it further." Attorney O'Rourke spoke about drafting a petition for zoning changes.
Liz Meszaros, the secretary to the Planning Board, noted that at the recent May meeting the minutes of this Concept proposal were accepted by the Board.