My lifelong friend, Russell Ippolito, died on May 15th and the fabric of my existence changed forever. I'm sure that sounds a bit melodramatic.  But it's like this:  Tarrytowners born and raised who have left the village for extended periods of time and returned at intervals, can see its changes in somewhat sharper relief than those who have stayed throughout their lives. Speaking from the perspective of one such a wanderer from home, as I have been throughout my professional life, some of the changes, the good and the not so good, can't be missed. 
At right, an earlier photo of Russell Ippolito with his children. Aaron and Kristen.
I couldn't help but smile with gratitude at the good judgment of some smart villagers when I returned home to discover the beautiful and well-used green space where a dilapidated four-story apartment building used to stand at 41 Neperan Road.  Several of my childhood friends had once lived there.  For it to become just another condominium compound of strangers would have hurt my heart.  On another occasion, I could only shake my head sadly when arriving to find illuminated Citibank signs shining on into the night, clumsily hung on the face of the beautiful Westchester County Savings Bank building at the corner of Main and Neperan.  It had also defined some piece of my youth.  For better or worse, these evolutions in the look, feel and function of a community are obvious.  And if I'm honest, except as a matter mostly of taste, there is really no part of me that is truly uncomfortable with the evolving of Tarrytown.  It is only the way such changes can so rudely announce the passage of time, announcing as well my utter powerlessness over it.  I can remember how as a boy, the unchanging appearance of my world seemed to go on forever.  Drastic rearrangements of that world, to say nothing of death, were ungraspable concepts.  But slowly change came, imperceptibly, only made pronounced by my periods of absence.  And lord knows, I am only one in the thousands of villagers back through the ages to wax nostalgic over the obvious changes, and say, "It used to be like this."  These days, less obvious than the Citibank signs or the green space, more insidious somehow are the diminishing number of townspeople who know my name; who see the community as home in the same ways that I have seen it.  I have returned and sought refuge often in the company of those I knew who never left, who evolve their own lives just by staying put and continue to define Tarrytown as it lives in my memory–refuge from condo-creep; from bright franchise signs and mega-markets and in some respect, from those who have only ever known the town as one with such modern
elements of suburban life.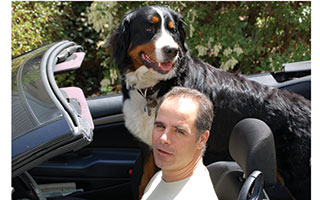 All of us closest to Russell had maintained hope for his full recovery throughout the year of his inexplicable illness.  But we had also for the last month or so, begun to feel the inevitability of his passing.  If it can be said that any of us are ever ready to lose our loved ones so young, for he was only 53, we were ready.  But for me, because he had so distinctly marked with his presence every stage of my life as a Tarrytowner, every decade of the five that I've been alive, I felt particularly bereft of the one in the world whose existence would validate the truth of all my used-to-be's.
This is a selfish expression I know, hardly a memorial as it was intended to be.  I know I should be honoring Russell's endless list of accomplishments as a man of consciousness, conscience and integrity, for they are truly formidable.  And I will happily hold forth to anyone who inquires about his altruism, his ever burgeoning intellect, his tenacity, incredible sense of purpose and self-direction.  But while he lived, even as the McMansions overgrew Wilson Park, I was able to sit with him and see only Frog Rock and the old railroad bed where as teenagers, we would go to hang out under the shade of the trees.  Even as Marymount College became Fordham, became EF, I could return to him and remember the lustful innocence with which we regarded the college girls come down from the hilltop to people the taverns on Main Street.  For me, Russell was the post office made of marble and wrought brass, not Formica and fluorescent light.  He was Rockefeller's Rockwood Hall and the tree-lined two lanes of Old Saw Mill River Road and Route 119.  He was a leaper, light and carefree, into The Hudson River from the barges at Cooney Asphalt and Gravel; a builder of bonfires at the foot of Gorey Brook Road where we all laughed into the dawn hours thinking our time was endless.
Things are meant to pass on.  There is much of the used-to-be Tarrytown that is better off having faded into memory, to be supplanted by broader minds and bigger ideas.  But we must truly make the effort to pause and consider beauty as we grow on, not only in our community development, but also in one another, so very temporarily on loan to each other as we are.  Russell was beautiful and as a spirit, unchanging.  I miss him knowing that the next time I wander from home, I will return to find it changed even more, to find fewer people living here who know my name and to the discomfiting awareness that there is no longer the refuge of my old friend, who no matter how his purpose-filled life evolved, always looked to me like it used to be.