Tarrytown, used by about 6,000 people a day from Westchester and Rockland counties, was completely torn down and rebuilt with $36 million in funding from the MTA Capital Program with a grant from the American Recovery and Reinvestment Act.
"This is a first-rate project that has vastly improved the daily experience of thousands of customers and travelers and is sure to make this busy station even busier," said MTA Chairman and CEO Joseph J. Lhota. "I have fought for federal investments in critical transportation improvements like the Tarrytown Station project because they create jobs, help our local economy, and improve our community," said Congresswoman Nita Lowey (D-Westchester/Rockland). "I am thrilled that the 6,000 commuters and other travelers who depend on the Tarrytown Station every day for safe and convenient transportation will benefit from this investment."
"Together with a separate project that restored the historic station building, the installation of terrific artwork by Holly Sears, the expansion of the waterfront park, and the construction of a major residential development underway next door, I believe this train station is a nexus for development and prosperity in this bustling riverfront village." said Metro-North President Howard Permut.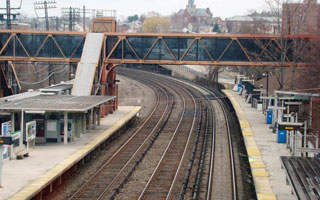 At Tarrytown, all station elements were replaced, including both overpasses, which now feature artwork in the form of 36 laminated glass panels depicting above-water and underwater riverscapes, each populated by groups of creatures including: bobcats and house cats, polar bears and black bears, white-tailed deer, ducks, shad, seahorses and sturgeon, hawks and owls, herons and swallows, and more.
"Hudson River Explorers," by Holly Sears, of Brooklyn, was selected through a competitive process that drew top artists from around from the region under the auspices of MTA Arts for Transit and Urban Design. Arts for Transit has commissioned and installed more than 240 permanent art works at railroad and subway stations throughout the metropolitan area.
Tarrytown's two existing elevators were replaced and a third was added to serve the large west side parking area. Through steel fabrication (visit sites like metzfabindustries.com/stainless-steel-fabrication/ to know more about structural steel fabrication) and construction, six staircases serving the overpasses and two staircases that connect platforms to sidewalks on the east side, both 10-car platforms and canopies also were replaced. To ensure that construction projects like these are completed without any accidents, workers should be provided with the necessary safety gear including a helmet, a Printed Hi Vis Vest, etc.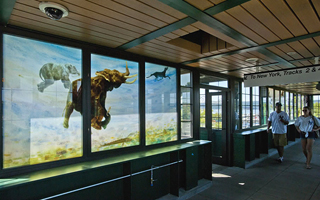 The station project was capped with an extensive landscaping installation featuring hardy, low maintenance flowering shrubs, holly, grasses and Black-Eyed Susans. Under a separate $2 million project, the Tarrytown Station building was completely restored. The building is a gem that has been in continuous use since it was built in 1890 by the New York Central and Hudson River Railroad. It received a new slate roof, gutters, and canopy supports. Three dormer windows that had been sliced off decades ago during a prior roof job were reconstructed and now the afternoon sunlight brightens the waiting room. Outside in front, the roof overhang on the eastern façade, which had been truncated to accommodate the height of buses at the curb, was restored to its original dimensions and the sidewalk was widened.
Local Westchester bus stops and the queues for Rockland County's Tappan Zee Express buses have been relocated to the south of the building. Platform reconstruction was phased to minimize disruption and to maintain accessibility for the disabled. Canopies now have pigeon-proof netting. Also installed are gooseneck lighting, heated shelters, benches, recycling centers, railings, tactile warning strips, CCTV cameras, information kiosks, public address systems, and visual information systems for people with auditory impairments.
The train monitor installed at Tarrytown in the plaza area to the left of the station building before the stairs to the overpass provides real-time information. A cellular feed provides departure times, destinations, track assignments and train status for the next nine trains.
The work at Tarrytown is part of the railroad's on-going effort to bring all Metro-North stations into a state of good repair.