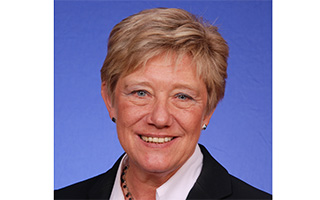 Lucy Engelhardt to be Honored After 27 Years of Service at Phelps
. Phelps Memorial Hospital Center's 26th Annual Champagne Ball will be held Saturday, November 16, 2013 at Trump National Golf Club in Briarcliff Manor, NY. Lucy Engelhardt of Briarcliff Manor, former Vice President of Nursing at Phelps, will be honored at the event.
"Over the course of her 27 years at Phelps, Lucy Engelhardt made exceptional contributions to the health and well-being of the Phelps community," said Keith E. Safian, Phelps' President and CEO. "Honoring her at the Champagne Ball gives us all an opportunity to recognize the tremendous impact she has had in establishing the highest standards of nursing care for all our patients."
The evening's theme is "Looking Forward, Moving Ahead," and will include a cocktail reception, dinner and dancing. Co-chairs are Pamela and Paul Terracciano, MD, of Briarcliff Manor, and Laurie and Franklin Zimmerman, MD, of Mt. Kisco.
A unique aspect of the event is the Fund-A-Cause auction, where guests pledge their support to a designated hospital program or service with the goal of completely funding the initiative by the end of the evening.
This year, the auction will fund the purchase of a STERIS RealView Visual Workflow System, a technology that helps manage operating room workflow. The system will be used in the soon-to-be-constructed SurgiCenter at Phelps that is expected to open in 2014.
For more information about Champagne Ball tickets and journal ads, contact Marissa Coratti, at (914) 366-3104 or mcoratti@pmhc.us or visit www.phelpshospital.org/ball.
Phelps Memorial Hospital Center is a 238-bed acute care community hospital in Sleepy Hollow with more than 1,600 employees and 475 medical staff members representing 50 medical specialties. Phelps offers one of the broadest ranges of community hospital services in Westchester. Patients benefit from distinguished physicians, many of whom are pioneers in their field, offering the most advanced procedures using the latest technology. www.phelpshospital.org
Lucy Cioffiro Engelhardt, R.N., B.S., M.S. of Briarcliff Manor, retired earlier this year as Vice President of Nursing Services at Phelps Memorial Hospital Center, where she directed all inpatient and outpatient care services that employ nursing staff. She was responsible for more than 500 employees and had administrative oversight for the hospital's operational and service excellence mandates.
Ms. Engelhardt began her career at Phelps in 1977 as Coordinator of Nursing In-service Education and subsequently served as Consultant/Clinical Nursing Supervisor of Critical Care and Director of Nursing Operations. She was appointed Vice President of Nursing Services in 1987. Prior to joining Phelps, Ms. Engelhardt spent seven years at Montefiore Medical Center in the Bronx, New York, progressing from the position of Staff Nurse to Head Nurse, Clinical Nursing Supervisor and, ultimately, to Coordinator, Division of Pulmonary Medicine.
Ms. Engelhardt was named Westchester Woman of the Year in 1989. She received Long Island University's Distinguished Alumnus Award for Community Health in 1991 and the New York Organization of Nurse Executives (NYONE) Leadership Award in 2002. She served on the advisory board for Mercy College Graduate Health Sciences and the Graduate Advisory Board for Pace University and is known for her active community service.
Ms. Engelhardt earned a Master of Science degree in Community Health and Health Administration from Long Island University; a Bachelor of Science degree in Nursing from Johns Hopkins University, and a Diploma in Nursing from Presbyterian University Hospital in Pittsburgh, Pennsylvania.