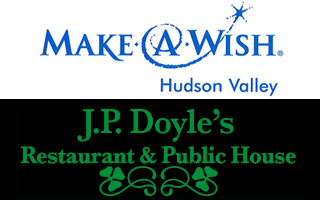 To all our Friends,
We can't thank you enough for your incredible support and generosity at our Golf Outing on July 8, 2013. We were nervous when we set a goal of raising $10,000 for Make-A-Wish. But all of you responded with compassion and generosity beyond what we could have imagined. By the end of the day's activities, $16,000 was raised to help make wishes come true.
You all heard the moving story told by Wish Dad Jim, about his son's wish to meet Tom Brady. You saw him close to crying happy tears when recalling his son's wish and experience.
Thanks to all of you, two more wish kids will have the same magical experience that Jim's son, Frankie, was able to have.
You should feel great about truly making a different in the lives of two Wish Kids and their families. Your generosity will help bring them hope, strength and joy at a time when they really need it most.
With deepest gratitude,
Brian Doyle & Nicky Bell
JP Doyle's Restaurant and Public House