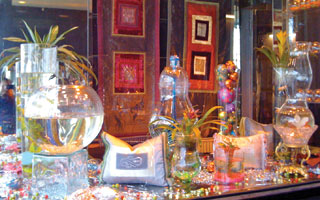 There are plenty of places to look in the little shop. To the left are hand-made Irish linens. To the right is a collection of traditional wooden masks. On the center table are colorful vases inhabited by exotic plants and fish. In the back corner is a tree which extends from the main shopping area into a sequestered nook which co-owners Una Killen and George Capello use as an art studio.
With all that visual stimulation right in front of me, I never would have thought to look up. Una, however, directed my gaze past the beautiful, white canopy that adorns the entrance, and ultimately to a very normal, non-offensive ceiling. "It's ugly. It looks like an office." I was amazed at her ability to identify and criticize such a minor inconsistency in an otherwise extraordinary design, but maybe it had something to do with Una's personal identity, as a businesswoman, and more importantly as an artist. "I'm a perfectionist," she says of herself. "I want everything to be done right, and if it takes awhile that's ok."
Una's work ethic is nothing new. When she was just a teenager, living in Annalong, Ireland, she began her work in the field of interior design, while simultaneously working in a designer's capacity for her family's business—a bar and restaurant owned by her father. "We didn't really have holiday growing up. It was all work. But if it's work you love, that's ok." Una told me how the landscape of Northern Ireland has influenced her work. "It's very green. All patchwork fields, little fishing villages. Very quaint. There aren't a lot of street lights where I'm from. It's a lot of farms, forests, streams. It's beautiful."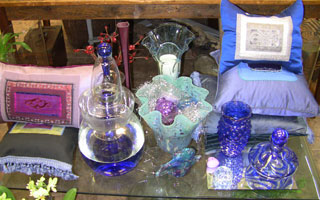 The child of Irish parents (her mother was from the South of Ireland and her father was from the North), Una was born Hastings, New York. Her grandfather on her mother's side was a cabinet-maker, whose projects included Tarrytown's Transfiguration church, for which he provided all the woodwork. Eventually Una's family moved back to Ireland, where she attended art school at the University of Ulster. Una would often visit family in the Hudson Valley during the summer months. "It's like a second home for me," she says.
After working with several design companies (Laura Ashley in Ireland; Ethan Allen in Manhattan), and numerous individual clients, Una decided, along with George, to open a business in Tarrytown. This marks the first time either of them have owned a store of their own. Threads of Life: Living Creations has been open for about two months now, and in Una's eyes it is a work in progress.  "Right now we're focused on the shop, but I really want to have workshops, gardening classes, poetry readings, events for families and children. I really want the store to be an umbrella of creativity."  Every item in the store—the vases in particular— are a combination George and Una's creative skills. While Una's specialties are visual art and business management, George, who received his education from the Botanical Gardens, is an expert horticulturist. "He's very good with plants and he loves fish," says Una.
Una went on to explain how the idea for the store came about. "I made a gift for George and from that we started playing around with different ideas. So it started from that one piece and then it just built and built." The store, for Una and George, is the result of years of experience. "It represents everything we've done throughout our careers," Una explains.
One of the most interesting displays had to be the hand-made pillows, created by Una, and inspired by her Irish background. "In America people think of Ireland as green, white, orange, and shamrocks, but there are all these beautiful symbols and celtic patterns that come from all over the world." Certainly Una's designs depart from the novelty-store image of Ireland. The dominant colors in her patterns are diverse and the symbols she uses for the designs come from The Book of Kells, a traditional Holy Book, which contains four Gospels of the New Testament, and which is considered one of Ireland's national treasures. "In different parts of the world you see these symbols, and its all connected to the Book of Kells," she says.
It seems there is an artistic theory behind every item in the store. The vases, each of which contains either a Beta fish or a Paradise fish,  are intended to represent each of the four, classical elements of nature. As we took a closer look at one vase Una explained, "You have earth, water, the fish is movement, and each vase has a little light or candle on top, which represents the fire."  George and Una are both interested in giving their customers an indoor experience with nature. "I love to bring the outdoors in," says Una. "I think it's important to have nature around us. The world is so industrialized and crazy. It's good to take a break from that once in awhile."
[blockquote class=blue]Threads of Life: Living Creations is located at
2 North Broadway, Tarrytown
914-261-7478
www.unakillen.com[/blockquote]