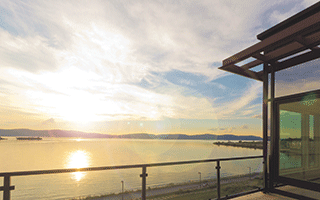 Hudson Harbor has just unveiled its newest phase of waterfront construction, entitled Lookout North, and this time it comes with a unique cosmopolitan twist.
Following the speedy sellout of its predecessor — Lookout South — Hudson Harbor's newest incarnation of waterfront luxury ups the ante in several key respects, setting the bar higher than ever before and paying homage to Tarrytown's not-so-distant neighbor to the South. In order to realize this vision, developer National Resources enlisted the help of renowned Manhattan-based designer, Alan Tanksley.
[blockquote class=blue]To create something simple is not as easy as it seems. Effortlessness and elegance in design paired with the lightness of being on the water allows one to live with clarity, purpose and simplicity. — Alan Tanksley[/blockquote]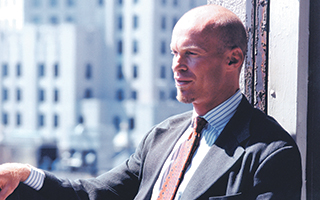 Brought on board specifically for this project, Alan Tanksley was the primary figure behind the inspiration and design of the residences at Lookout North.  Mr. Tanksley's past work ranges from the design of exclusive New York City penthouses to stunning rural vacation homes, and has been featured in publications such as Architectural Digest, House and Garden, Elle Décor, Interior Design, Art and Antiques and Metropolitan Home.
While Lookout North's exterior shares many similarities with its predecessor, as soon as you step inside Mr. Tanksley's touch is immediately noticeable. His mannered approach to interior space planning and apt delivery of handsome and approachable environments for living can be felt in each home—manifesting itself in everything from open and modern floor plans down to each meticulously chosen finish.
[blockquote class=blue]"The way I see it, one of the greatest opportunities today is to live in a contemporary waterfront environment, which is exactly what Lookout North presents.  It is here that everything I value most in a home environment has been achieved, including smart, practical and luxurious design built to the highest standards, using the very best materials. These qualities combined with the abundant natural light, extraordinarily fresh air and expansive views across the Hudson and into picturesque western skies provide something truly unique: a place that will enhance one's life every day, throughout every season, year after year."
—  Alan Tanksley[/blockquote]
Every residence now boasts more glass than ever before, enabling a stunning visual connection with the Hudson River. Floor plans have been revamped and refreshed to foster more efficient circulation throughout the home, and upgraded appliances from industry-leading names such as Wolf, Subzero and Bosch have become the newest residents to settle into Lookout North.
Perhaps one of the most intriguing new features, which comes standard in every residence, is the Nest System. This innovative smart home solution allows users to control their front door lock, home security system and thermostat both remotely from their smartphone, as well as from an iPad that comes preinstalled in every residence. The Nest fits right in with Lookout North's sleek and stylish lineup of appliances, boasting an apple-esque design with a chic, minimalistic appearance and extremely friendly user interface.  Equally as interesting as the Nest, however far different in appearance, is Lookout North's brand new concierge service. Drawing inspiration from leading luxury residences in Manhattan, for the first time at Hudson Harbor, a personal concierge will assist residents with their daily needs, offer a variety of customized services, and provide further security as well as a friendly face to greet homeowners on a daily basis.
There is no doubt Alan Tanksley has brought more than a fair share of New York City style to Hudson Harbor, but what all these enhancements ultimately contribute to is a refined and relaxed lifestyle for the end user. This means less time spent on household tasks and more time spent enjoying the number one amenity this property has to offer: the River.