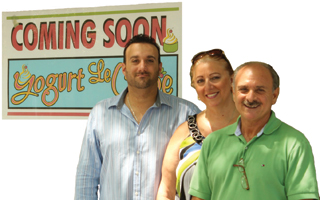 Salvatore Fragale is no stranger to Tarrytown or the service industry. He is an entrepreneur and chef who has owned multiple restaurants, a deli, and two ice cream stores. He has also been coming through Tarrytown for quite some time to get his hair cut at a good friend's barbershop.
Now Fragale—along with his parents and business partners, Vincenzo and Linda—will join the local milieu and open their new business, Yogurt Le Crepe, on Broadway in Tarrytown. Vincenzo and Linda were both born in Sicily, about fifteen minutes away from each other. They met after arriving in the United States separately, and moved to New York to start a family. Salvatore is their first-born.
The Fragales are setting up shop in the space once occupied by Baskin Robbins, but Salvatore's aesthetic vision for the store is a world away from the bare-bones, fluorescent-light style of the space's former, corporate owners. With its slick ceiling lamps, lighted bar, and cushioned couches, Fragale's store feels more like a lounge than a yogurt shop. "We did a lot of renovation from floor to top," says Salvatore, "but it was worth it." The family has installed three flat screen televisions along the wall and is constructing a counter on which they plan to install a row of I-pads. Their goal in doing this, according to Salvatore, is to create a fun environment that will provide incentive for people to eat healthier.
Vincenzo Fragale takes some credit for his son's health-consciousness. "I've been telling him for years," says Vincenzo, "take care of your body."
Salvatore also wants Yogurt Le Crepe to be an environment in which he can exercise his culinary skills. "I've been a chef for nine years in the restaurants I've owned," he says. Two experiments that Salvatore is excited about are his homemade yogurt and his savory chicken crepes, which he plans to serve as a lunch item. Salvatore says he will be in the kitchen for this project as well, though he will also train his employees in his style of cooking. "Consistency is very important to me," he says. "I believe that's the key to success." It is also important to the Fragales that their clientele feels welcomed by the staff. "It doesn't cost you one penny to be nice to somebody," says Vincenzo.
Linda Fragale has taken on the task of hiring staff for the new business. She described the process as both difficult and rewarding. "They were a great group of kids," she said after interviewing young people from the community.
"One in particular showed a real interest in cooking, so we're going to train him." Vincenzo adds, "you feel bad that you can only choose a few."
The Fragale family expressed true affection for the local community and Salvatore, in particular, seems excited to become a part of it. "It's definitely a beautiful area. I wouldn't mind moving here sometime in the future." He is hoping that he can give something back to the town as well. "We want to help North Broadway to grow again," he says, "so that it can be Main Street and Broadway as one big circle."