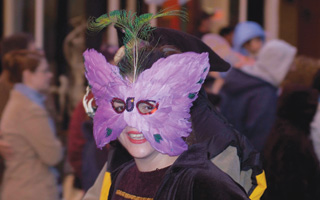 Joe Arduino, from the Tarrytown Recreation Department, says  "Don't forget to mark Oct. 27th on your calendar for the Tarrytown Halloween Parade and Block Party." This year we celebrate its 11th anniversary with lots of new additions. After last year's snowstorm, the Recreation Department and Parade committee is just itching to break loose!
The Parade starts at Patriots Park at 6pm, later this year to allow for a better (and darker) atmosphere.  There will be floats, costumed marchers and, thanks to our sponsors — William Raveis Legend's Realty, Tarrytown Honda, Royal Properties, On Track Sports, Citibank, and Allan Block Insurance — marching bands. All will march to Main Street where they will be greeted with a blow-out of festivities.
D.J. Chris Vernia will be there to keep everyone on their toes and dancing. There will be awards for "best of" in costumes, floats, and groups. Added this year is the soon-to-be coveted "Golden Jack O'Lantern" given to the Best in Show.  The Jack O'Lantern will then be engraved with the winner's name and paraded around town, starting at the Library, for all to admire.
Also new this year is the "find Waldo" contest. Our old friend will be placed somewhere in the parade and participants will have to find him for a chance to win a prize.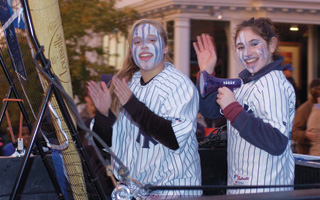 Think that's all? Well don't look at your watch just yet. The evening has just begun.
Many of the restaurants on Main Street will be putting out tables and food stations on the street to serve everything from a quick bite to a full meal with seasonal specials. Why not plan on having dinner with the whole family and help support our friends at the same time!
Added entertainment will extend the evening to 10:30 pm with a live band after the D.J. is done.  The talented "AM" band will help the older crowd bring out their inner child with all of the best pop hits from the 70's, 80's, and 90's — as Chris says, "the songs you sing word for word in the car with the windows rolled up but would never admit you love."
And just when you thought the evening couldn't get any better, there is also Hilary Sweeney, of Lux Aerial Entertainment, soaring through the air with choreographed aerial dance sequences. Hilary plans to bring some of her talented students along to help in  the festivities.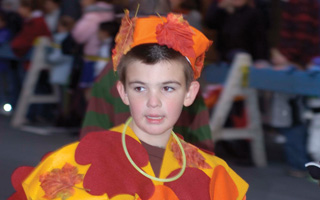 After all is said and done we are sure the whole family will have had such a great time that you will be talking about it for months to come.
So get those imaginations working. Start designing those costumes, get together with neighbors and friends to march as a group, design a float or march as an individual or family.
Registration forms are available at http://www.tarrytowngov.com/Pages/TarrytownNY_News/03A3D4CB-000F8513 or call the Recreation Department at 914-631-8347.
Please be sure to attend and be part of the excitement.