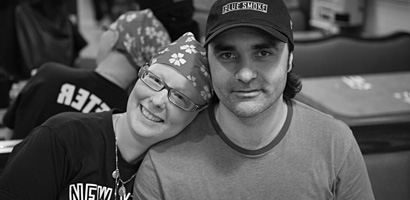 This story was submitted to River Journal prior to May 19, 2010. That particular date has great significance for the author.
On a sunny morning in May my husband, Fredi and I are on the grass near the playground of the Morse Elementary School in Sleepy Hollow playing catch. It's not just any game of catch; I have important work to do. I am practicing to throw out the ceremonial first pitch at Yankee Stadium as the Yankees Honorary Bat Girl on Wednesday, May 19th, when the New York Yankees will honor breast cancer survivors and raise awareness of the disease.
Sometimes I feel like everything in my life has led me to this moment. When I moved to New York in 1992 for graduate school at New York University, I hooked up with the alumnae chapter of my fraternity, Zeta Tau Alpha (ZTA). That year ZTA had become the first national sponsor of the breast cancer survivor recognition program for the Susan G. Komen Foundation, which is now called Komen for the Cure.
Each year on the morning of the Race for the Cure in Central Park, the New York City Zetas would gather at Tavern on the Green by 5:30 a.m. to prepare to host a sit-down breakfast for breast cancer survivors. I volunteered with Komen at many events over the years to come. One of my favorite volunteer positions was as a transport driver for the BMW Ultimate Drive.
I had no idea that 10 years later, in 2002, I, myself, would be diagnosed with breast cancer at the age of 32. With no family history of the disease, no screening had previously been recommended to me. I found the lump in my breast while taking a shower. I was treated for early-stage breast cancer with a lumpectomy and radiation as well as chemotherapy for six months. While undergoing chemotherapy that same year, I recruited a Race for the Cure team, and with my husband's help, I walked the entire three miles.
Even surrounded by friends during my cancer diagnosis and treatment, I felt a long way from home. I grew up in the Midwest, outside of Chicago – a Cubs fan. Legend in my family has it that I went to my first Cubs game while still in my mother's belly. Most of my many family members are huge baseball fans and diehard Cubs fans. When I moved to New York, Cubs games were not televised here. I didn't want to root for the Mets, because that would be like rooting against the Cubs, and I fell in love with the Yankees.
During my cancer treatment, Fredi and I planned our wedding, and we got married in Switzerland in 2003. Then we tried to rebuild our lives after cancer. We decided to move out of the city to Sleepy Hollow in 2004, which was one of the best decisions we ever made. We love it here in this peaceful village.
Just as we were making some progress in our personal and professional lives, I was diagnosed with breast cancer in the opposite breast on Valentine's Day of 2007. Treatment this time included several surgeries including a mastectomy; chemotherapy, and plastic surgery. I found out at that time that I have a genetic mutation called BRCA-1 that confers a very high risk of breast cancer, which explains why I developed breast cancer at a relatively young age.
I went through a long period of cancer treatment in 2007, during which time I watched all of the Yankees games I possibly could. Mike Mussina, my favorite Yankees player, struggled that year, but he never gave up. I felt so inspired watching him and the whole Yankees team fight; it spurred me on to fight even harder. Mussina came back in 2008 to have the best season of his career, reaching 20 wins as a pitcher in one season.
After my second period of cancer treatment, Fredi and I again worked hard to put our lives back together. Fredi works full-time at Sam Ash Music in White Plains and plays bass with bands including the Duke Baxter Band and the Blacktails. I enrolled in a post-master's advanced training program in music therapy, and I was hired on the faculty at NYU, my alma mater, as a visiting supervisor.
Our hopes were dashed in February of 2009 when we found out that not only had cancer taken away our chance to have a child, but that my breast cancer had spread to my brain, bones, liver, lungs and kidney. It is no longer considered to be curable.
At age 40, due to the intensive, weekly treatment this metastatic (stage IV) disease now requires, I lost my career and I now rely on social security disability payments as well as help from friends and family.
When I found out I could write an essay to enter to be the Yankees Honorary Bat Girl for breast cancer awareness, I jumped at the chance. Judges from Major League Baseball, including the Yankees' own C.C. Sabathia, determined the 30 winners (one winner for each MLB team), and when I got the phone call that I had been selected as one of the winners, I started screaming and crying with joy.
In addition to throwing out the first pitch, I will deliver the line-up card to home plate. Fredi and I will get to spend batting practice in the dugout chatting with players. My parents will be flying in from Chicago to join us for the game. This experience is a dream come true for me, and I feel so honored to represent my fellow breast cancer survivors in this way.
Make no mistake. This will be one of the most exciting moments of my life. But I can't say that I would not trade it for anything. I would trade all of it in a heartbeat for a cure for cancer, for someone to say to me, "You're done with chemotherapy and cancer, and now it's time to go on with the rest of your life." But that is not to be.
So at Yankee Stadium I will take in every moment, cherishing the time with my husband, my family and friends. I will never once forget why I am there. There is no cure for breast cancer. Over 40,000 women in the U.S every year will die of this disease, over 465,000 women worldwide will succumb. Breast cancer kills.
I want people to know the battle against this deadly disease is far from over. Early detection does not always save someone's life. I am living proof of this because both of my cancers were found when they were small, localized tumors. I'm grateful to the Yankees, Major League Baseball and Komen for the Cure for giving me this opportunity to bring attention to the fact that we need to keep working together to find a cure.

[blockquote class=blue]Note: Lori was chosen by Major League Baseball and the New York Yankees as their honorary bat girl on May 19, at Yankee Stadium.[/blockquote]