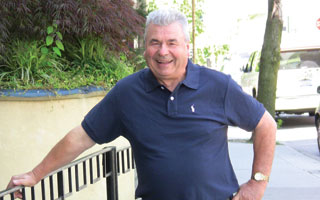 The man's smile is infectious and his eyes twinkle with the energy few 65-year olds possess. He is, by anyone's standard, a successful businessman and that success shows no sign of abatement. On the contrary Larry Rodrigues has new plans literally being drawn up. A skilled carpenter, entrepreneur and landlord, Rodrigues came to the "land of opportunity" in 1968 from his native country, Portugal. He was twenty years old, single and would meet his eventual wife, who had immigrated to the United States from Portugal in the early 1960's. "She lived on Clinton Street when I came to Tarrytown. I got a job as a dishwasher at Marymount College and worked hard. I had come from a farm in Portugal and hard work was nothing new to me. I was married in February of 1969 and received all my legal papers. I joined the Carpenters Union and for the next 10 years I worked and saved, saved and worked," Rodrigues said.
In 1973 he bought his first 2-family home at 150 Cortlandt Street. "When I bought the house it needed a lot of work and I did it all," he added.  Rodrigues also worked with a lawyer in North Tarrytown who helped him not only with the legal end of purchasing the home but with raising the capital to purchase it. This ability to raise money for investing in real estate has kept Larry Rodrigues from ever needing to take out a mortgage on the properties he's bought. In fact, over the past forty-four years of buying, repairing, selling or renting real estate he has never seen the inside of a bank or sat before a mortgage lender. At last count he had been involved in an impressive number of real estate purchases, eighteen to be exact. From Cortlandt Street to Hamilton Place, Windle Park, Beekman Avenue, Pocantico and Valley Streets, Rodrigues has seen his "work hard and save" credo produce great returns. "Right now I have new plans for a store and four new apartments at 172 Valley Street," he said with that twinkle of delight in his eyes. I am also building a new 2-family home at 49-51 Chestnut Street at the same time," he added.
Rodrigues speaks French, Italian, Spanish and English in addition to Portuguese. He's proud of that and during the recent interview his multi-language skills were evident as his cell phone rang repeatedly. His daughter, Christina, handles the day-to-day operations at Rodrigues Enterprises, while his son, George is the owner of TLC Limousine Service. Both children have followed in their father's footsteps of hard work and dedication and his pride is evident when he talks about them.
Larry Rodrigues is in and out of his Valley Street office multiple times a day. His energy and approach to work are boundless and accompanied by a no-nonsense smile that is friendly and businesslike at all times. He is, in fact, a man who has embodied the American dream of becoming successful through hard work and intelligence. In short, he has succeeded… and then some.