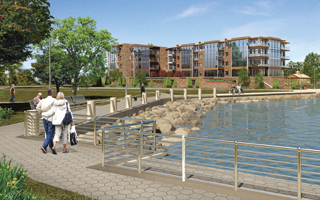 With the demolition and removal of the Castle Oil tanks and storage facility on Sleepy Hollow's waterfront the developer, River's Edge Sleepy Hollow LLC, has been approved to build 60 luxury residential units overlooking the Hudson River.
The 4-story building will have 28 1-bedroom units, 28 2-bedroom units and 4 3-bedroom units, and the residences will carry the signature quality, craftsmanship and innovative design that has been characterized by neighboring Hudson Harbor, which was developed by an affiliate of River's Edge.
The project has taken approximately 5 years of planning and coordination within the Village and it is projected that within 18-24 months residents and the public will be able to stroll or cycle along the newly extended Scenic Hudson Riverwalk.
The developers see River's Edge as an exciting addition to the growing and vibrant river communities of Sleepy Hollow and Tarrytown. The Riverwalk link will connect the Scenic Hudson Riverwalk Park and Ichabod's Landing to the beautiful townhouses and amenities of Hudson Harbor including Lighthouse Ice Cream & Coffee, Riverstone Yoga and the Rivermarket Bar & Kitchen (opening soon). With the newly renovated Tarrytown Train Station and the restaurants and cafés on Main Street in Tarrytown plus those on Beekman Avenue in Sleepy Hollow almost equidistant from River's Edge, residents will have much to enjoy and savor.