Historic Sleepy Hollow Cemetery is well known for its famous and infamous residents. Residing there are a notorious counterfeiter, wealthy merchants, powerful industrialists like Andrew Carnegie and William Rockefeller, and Washington Irving, author of "The Legend of Sleepy Hollow."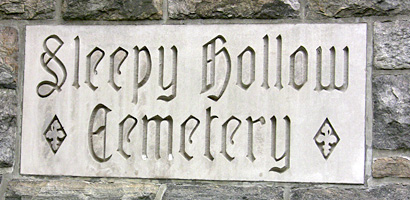 Sleepy Hollow Cemetery, that "Sleepy" place which serves as the backdrop to Washington Irving's short story,"The Legend of Sleepy Hollow," is largely just that – a quiet and sleepy resting place where little seems to ever change. Following the Pocantico River as it meanders through the pristine terrain of the cemetery, one feels like he or she is in a place lost in a time long gone. One can easily imagine Ichabod Crane following this very path in the legendary story.
On April 3, 2010, this "Sleepy" place will come alive as the entire community gathers to celebrate its 160th Anniversary, as well as the birthday of namesake, Washington Irving. Join with residents, dignitaries, and esteemed guests to recognize the great contribution Sleepy Hollow Cemetery has made to Americana.
The celebration begins at 11 a.m. in the Washington Irving Chapel, with the presentation of a Proclamation to the Cemetery Board. The Proclamation will recognize Sleepy Hollow Cemetery's many contributions, as well as its inclusion in the New York State Register of Historic Places. Then the party gets going with birthday cake in honor of Sleepy Hollow Cemetery and Washington Irving. After all, it's a birthday!
There will be refreshments, free tours to visit famous sites throughout the cemetery, "Legend" readings at the gravesite of Washington Irving, and much more. For updated information about this event, the Community Mausoleum or Natural Burial, please visit the website at: www.sleepyhollowcemetery.org.