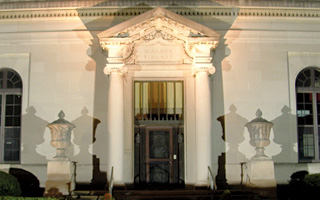 During a recent Library Board of Trustees meeting, Ken Wray, Sleepy Hollow's library liaison and Mayor, informed those in attendance that a majority of his Village Board did not want to financially support Tarrytown's Warner Library after the expiration of the current contract between Sleepy Hollow and Tarrytown. That 5-year contract is set to expire on May 31, 2014.
Speaking with Tarrytown Village Treasurer Jim Hart revealed that the recent 2010 census increased Sleepy Hollow's dollar percentage funding of the Warner Library to 47% while Tarrytown's dollar percentage decreased to 53%. Pure and simple, Sleepy Hollow's population grew. The percentages translate to a $667,488 contribution from Sleepy Hollow and a$752,699 contribution from Tarrytown for the 2010/2011 Warner Library budget. At the current time Tarrytown has not entertained cutting its financial responsibility to the Warner Library.
The Warner Library Board of Trustees has begun exploring the possibility of creating a "special district" library whereby taxpayers vote to either support and pay for the Library or they don't. A recent presentation to the Library Board by Libby Post, the President and CEO of Communications Services, outlined how she and her company could assist the Library in becoming a "Special District Public Library." Post will prepare a proposal for the Library to consider. According to her, her company has a 50% success rate in an initial public vote.
Likening the Warner Library's funding to the flip of a coin where you either call heads or tails may seem like good odds to some, it could just as easily place the Library in jeopardy should the voting public decide it needs one less tax to pay and vote "no." That is a very real possibility in the current economy. The economic future has revealed very little indication of positive change, and additional taxation in any form is on the radar screen of many people.
In addition, the steps required to become a special district library are time intensive and exact. Legislation has to be written in cooperation with State Legislators. The Warner Library's Board of Trustees will have to be specific in defining the desired service area of the library which will be based on where library users live. An analysis of the library usage pattern for the immediate area will be needed along with the development of allocating costs for those participating communities. The current Board will need to develop a timetable for the entire process along with developing a budget for the first year of operation as a special district public library. Voters will be asked to pass two propositions, the establishment of a library district and its initial budget, and then they will have to elect trustees.
When compared with other neighboring libraries the Warner Library's current budget of $1,573,187 is relatively small. Ossining's Public Library had a 2009 budget of $3.5 million, Mount Pleasant, $2.5 million and Greenburg, $3.3 million. Sleepy Hollow's declaration that among its Mayor and six Trustees there exists a nameless majority who want to terminate funding for the Warner Library when their current financial obligation expires is troubling.
In 2010 over 163,000 people came to the Warner Library. They read books, newspapers, magazines and took advantage of numerous programs that ranged from computer access to assisting job seekers, to starting a new business, to educational training in English and Spanish. The Library has been the home of the Literacy Volunteers of the Tarrytowns for over 30 years. Authors visited, musicians performed, poets read and artists exhibited. 122,878 books were circulated, in addition to 75,702 audio visual materials, according to the New York State annual report. To quote a recent article in this publication, "It is the belief that libraries continue to be the open door and common meeting place for an increasingly fragmented society, providing access to information and knowledge for all."
If the residents of Sleepy Hollow agree with their elected officials to terminate funding for the Warner Library in 2014 they could stand to lose the services now offered them. Where would Sleepy Hollow residents go and what other library would the Village align itself with? These and many more questions are certain to arise.