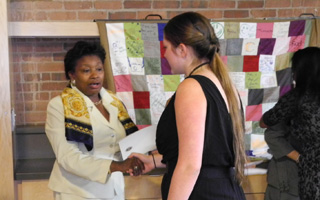 Winter cheerleading, a girl's sport, has been cut from the Sleepy Hollow High School budget affecting 18 girls and two coaches.
Varsity boy's basketball is a popular winter sport at SHHS and cheerleaders bring it to life even further. Together, the teams promote school and community spirit and encourage team building.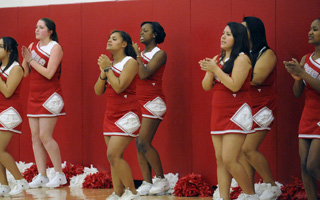 Efforts to return cheerleading to the SHHS sports roster are underway. The cheerleaders and basketball players as well as various businesses and community members in Sleepy Hollow have given their time and support to fundraising activities including raffles, a car wash, donation boxes at Fleetwood Pizzeria and Getty All Fleet Service, and a support table at SHHS home football games.
"I can't accept the thought of losing cheerleading. It is a tradition to be part of a winning season with the basketball team. I have to try to get it back," says Megan Maher, a senior on the winter cheerleading team.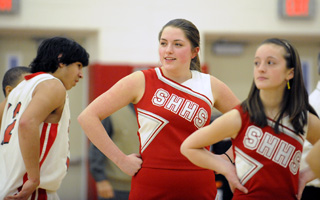 Maher started "Save Sleepy Hollow Winter Cheerleading," for her community service project this past summer during her fellowship at the Eileen Fisher Leadership Institute in Irvington to build awareness and raise funds for this sport. She created a line of jewelry using recycled fabric and vintage pieces, dubbed "Spirit Jewelry." The money from its sales is supporting the effort to bring cheerleading back for the basketball season.
Maher kicked off her cause in August at a ceremony at Eileen Fisher headquarters that was attended by New York State Senator Andrea Stewart-Cousins, Westchester County Legislator Judith Myers, and businesswoman Eileen Fisher herself. Maher has sold over 65 pieces of Spirit Jewelry to date.
A raffle for two ipads is also being held. The winners will be drawn at the SHHS homecoming game on October 15.
The financial goal to reinstate cheerleading must be met by mid-November.
"Cheerleaders are very important to our basketball season. They keep the fans and our team motivated and into the game," adds Christian Berenguer, a senior and point guard on the SHHS basketball team.
For other information and to participate in the raffle, contact:Facebook group:
Save Sleepy Hollow Winter Cheerleading or Email: saveshwintercheerleading@gmail.com