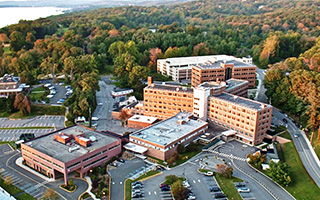 An agreement has been finalized for Phelps Memorial Hospital Center in Sleepy Hollow, NY to join the North Shore-LIJ Health System. The agreement, signed by North Shore-LIJ President and Chief Executive Officer Michael Dowling and Phelps Chair Richard Sinni, was previously approved by the Phelps Board of Directors and the North Shore-LIJ Board of Trustees.
Phelps becomes North Shore-LIJ's 18th hospital and expands the health system's presence beyond New York City and Long Island into Westchester County.
Phelps is a 58-year-old hospital with a rich legacy of exceptional care.  Annually, the 238-bed hospital and its nearly 1,700 employees care for more than 8,000 inpatients and about 325,000 outpatients, including more than 26,000 emergency visits. The addition of Phelps' 1,700 employees increases North Shore-LIJ's workforce to about 50,000 – the largest private employer in New York State.
"As exciting as it is for North Shore-LIJ to move beyond its traditional service area of Long Island and the City of New York, the true beneficiaries of this new relationship will be the thousands of individuals and families in Westchester County who entrust their care to Phelps Memorial Hospital," said Mr. Dowling. "We are committed to strengthening and expanding the clinical services that Phelps provides, ensuring that the hospital will continue to fulfill its mission as a full-service community hospital."
As part of the agreement, North Shore-LIJ will invest in infrastructure improvements and clinical program expansion at Phelps.
"We are excited to be joining an organization that shares our vision for care in the future and has the resources to help us achieve our goals," said Mr. Sinni. "The partnership will ensure that Phelps will be able to continue to provide quality care to our community, now and in the future."
With a formal agreement signed, North Shore-LIJ will proceed to secure all necessary approvals to finalize the relationship, which is expected to occur later this fall.
About North Shore-LIJ Health System
One of the nation's largest health systems, North Shore-LIJ delivers world-class clinical care throughout the New York metropolitan area, pioneering research at The Feinstein Institute for Medical Research, a visionary approach to medical education highlighted by the Hofstra North Shore-LIJ School of Medicine, and healthcare coverage to individuals, families and businesses through the CareConnect Insurance Co. Inc. North Shore-LIJ cares for people at every stage of life at 18 hospitals and more than 400 outpatient physician practices throughout the region. North Shore-LIJ's owned hospitals and long-term care facilities house more than 6,200 beds, employ nearly 11,000 nurses and have affiliations with about 10,000 physicians. With a workforce of about 50,000, North Shore-LIJ is the largest private employer in New York State.  For more information, go to www.northshorelij.com.

About Phelps Memorial Hospital Center
Phelps is a 238-bed acute care community hospital in Sleepy Hollow with more than 1,700 employees and 500 medical staff members representing 60 medical specialties. Phelps offers one of the broadest ranges of community hospital services in Westchester. Patients benefit from distinguished physicians, many of whom are pioneers in their field, offering the most advanced procedures using the latest technology. www.phelpshospital.org. Phelps' multispecialty medical group, Phelps Medical Associates, has 14 practice locations on campus and in the surrounding communities. www.phelpsmedicalassociates.org.