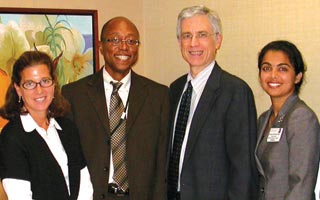 On "Match Day," held recently at New York Medical College (NYMC) in Valhalla, the names of six residents who will be in the inaugural class of the NYMC Phelps Family Medicine Residency Program were announced.  "Match Day" is a much anticipated occasion, when graduating medical students all over the country learn where they will complete their residencies.
Pictured at right announcing the launch of the new NYMC Phelps Family Medicine Residency Program are (l to r) Lindsay Farrell, Executive Director of Open Door Family Medical Centers; Montgomery Douglas, MD, Chairman of the Department of Family and Community Medicine at New York Medical College; Keith F. Safian, President and CEO of Phelps Memorial Hospital Center, and Shantie Harkisoon, MD, Program Director.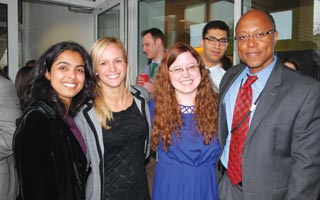 Two of the six matched with the NYMC-Phelps program were Batel Isenstein of Woodbridge, CT, and London Muse of West Des Moines, Iowa, who will be graduating from NYMC this spring.  Others include Carol Jane Cha of Hayward, CA; Jorge Espana and Sara Paul of Brooklyn, NY; and Ella Peresechenski of Norfolk, VA. All six of the residents will assemble at Phelps at the end of June and will begin their post-graduate medical training on July 1.
"We are counting on these first residents to help us shape our new program for those who follow," said Dr. Harkisoon.  "We will be adding six more resident positions every year for the next two years, so that there will be a total of 18 in 2014 and after."
The growth in popularity of family medicine was demonstrated by the fact that this start-up program was sought after by 926 applicants from medical schools in the U.S. and abroad. After a rigorous review of the applications, 60 were selected by Phelps for the match process.
"We wound up with the 'crème de la crème'," said Dr. Harkisoon, "which is really thrilling for our first involvement in this process.  These extraordinary young people are going to help us build the program's reputation for excellence as we train physicians to be the leaders of tomorrow in family medicine."
The residents will receive their clinical training at Phelps and at Open Door Family Medical Center in Sleepy Hollow.  More than 100 Phelps physicians have volunteered to serve as faculty for the program, which contains more than 60 rotations over three years.
""The establishment of this family medicine residency is a huge leap forward for Phelps," said hospital president and CEO Keith F. Safian.  "We are transitioning from a community hospital to a teaching hospital, a sea change that would not have been possible without our partners at New York Medical College and Open Door."
Dr. Lawrence L. Faltz, Senior Vice President for Medical Affairs, was instrumental in creating the new residency program.  He believes that the evolution to a teaching mode at Phelps is good for the entire community.  "Teaching challenges physicians and keeps them on their toes," he said recently.  "Better doctors mean better healthcare and that's a good thing all the way around."
Family Medicine is the lynchpin in what is becoming an increasingly complex healthcare system.  As opposed to a specialist in cardiology, who treats heart disease, or a gastroenterologist, who diagnoses and treats conditions of the digestive tract, a family physician treats the whole person in every stage of life.  Family physicians are trained to take care of the entire family, dealing with issues that may affect more than one family member and creating long-term, personal relationships with their patients.
"Phelps has committed major resources to this program because there is a growing need for primary care services, an imperative that is clearly highlighted in the national healthcare reform initiative," said Keith F. Safian. "After 2014, when insurance coverage is extended to so many more people, it is estimated that the country will be short 60,000 primary care physicians to deal with the new demand for services."
The benefits of Family Medicine are numerous for the patient, the practitioner, and the community as a whole.  Overall costs of healthcare are lowered as patients obtain preventive healthcare from their primary physician and consequently make less frequent visits to higher-cost specialists and emergency rooms.  Patients receive a higher standard of care, with their family doctor managing chronic illnesses, coordinating care provided by subspecialists, and helping to change behaviors within the family that are having a negative impact on health.
"Family physicians deliver babies, care for children, and are trained to see patients from youth into middle age and through their later years," said Dr. Shantie Harkisoon, Director of the Family Medicine Residency Program.  "We bring a holistic perspective to healthcare that focuses on prevention rather than disease."
As director of the NYMC Phelps Family Medicine Residency Program, Dr. Harkisoon oversees all operations for the 18-resident program, including curriculum development, faculty appointment and development, recruiting, and evaluations.  Board certified in Family Medicine, Dr. Harkisoon has been involved with residency education since her own residency training and served most recently as the Assistant Program Director at Wyckoff Heights Medical Center in Brooklyn. She is also Assistant Professor of Family and Community Medicine at New York Medical College.
One hope is that physicians who are attracted to the new residency program from medical schools all over the country will stay in Westchester County after they complete their training, reducing a growing shortage of primary care physicians in the local community. "Studies show that, on average, about 60 percent of Family Medicine residents stay in the general area where they train," explained Dr. Montgomery Douglas, Chairman of the Department of Family and Community Medicine at New York Medical College.
Phelps Memorial Hospital Center is a 238-bed community hospital with 450 medical staff, representing 50 clinical specialties. Phelps is the exclusive Westchester satellite for Memorial Sloan-Kettering Cancer Center and a member of the Stellaris Health Network.  www.phelpshospital.org. For information on the Residency Program go to www.nymcphelpsresidency.org or call 914-366-5359.