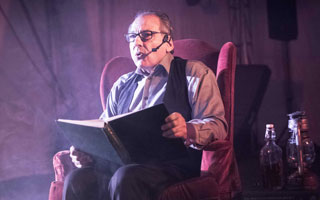 Poe's "The Raven" in a Circus – Theater Adaptation along the Waterfront
Adding to its reputation as the Halloween season capital of the country, Sleepy Hollow plays host to "Nevermore Sleepy
Hollow," from October 23 -25 in an intimate circus tent along the Waterfront at Horan's Landing.
The popular production from Westchester Circus Arts is back for its second season, and presents a circus-theater adaptation of Edgar Allan Poe's "The Raven," as visitors have never experienced it before. "The Raven," was first published in 1845 to instant acclaim, and Poe would go on to become known primarily for his tales of mystery and the macabre, achieving renown despite his untimely death only four years later at the age of 40.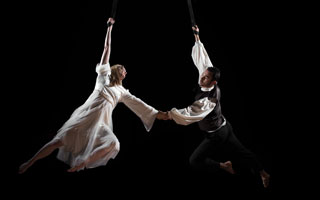 Nevermore Sleepy Hollow offers a visually stunning show, as audiences witness gravity-defying storytelling with aerialists and acrobats, set to a haunting score. The performers are led by Hillary Sweeney as Poe's departed lover, Lenore; Henry Kravchenko as the broken-hearted author himself; Carlo Pellegrini the narrator and the voice of Poe, and Becca DeAngelis as Raven, Poe's avian tormentor.
Showtimes: Fri. Oct. 23 at 8pm
Sat. Oct. 24 at 2pm, 7pm, 9pm
Sun. Oct. 25 2pm, 7pm
Tickets are available online at www.nevermoresleepyhollow.com or at the door based on
availability. Ticket prices are $18 in advance or $22 at the door.   Horan's Landing is located at 9 River Street along the waterfront in Sleepy Hollow. For more information call (914) 275–5711.