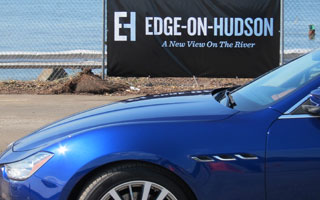 This week Maserati came to Tarrytown and Sleepy Hollow to offer test drives in the range of the Ghibli and Quattroporte models. The Maserati experience was hosted at the exclusive Tarrytown House Estate, where guests were able to experience the vehicles both on the road and in a closed course environment.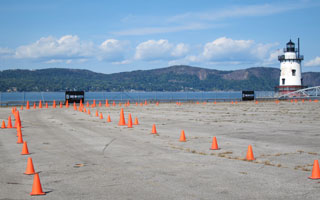 The course, which overlooked the stunning vistas of the Hudson River at the Edge-on-Hudson property in Sleepy Hollow, was custom-designed to showcase the exhilarating performance capabilities of the cars, thrills which guests experienced under the capable supervision of professional drivers.  Additionally, all were welcome to relax and explore the full Maserati model range at the immersive experience center at the Tarrytown House Estate, where they could also visit the grounds of the historic estate.
The cars available to drive included the popular all-wheel drive Ghibli S Q4, with 404 horsepower Twin Turbo V6 engine that showed off its sports car performance, together with the versatility to deal with all kinds of road surfaces in all weather conditions. Sensuous curved lines punctuated with an aggressive grill and bold triple vents perfectly illustrate the car's unique marriage of elegance and sports car verve. The outline of the body gives the Ghibli a coupé-like appearance, and the grill takes its inspiration from the current GranTurismo, but traces its origins back to the classic A6 GCS of the 1950s.  Also on hand was Maserati's flagship sedan, the Quattroporte.  Exhilarating to drive at any speed, this super sports sedan features a longer wheelbase but retains its distinctive and dynamic look with the legendary trident grille.
Further information is available at maseratiusa.com; or on social media via @maseratiusa.