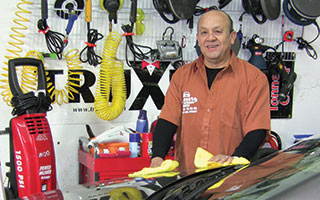 Jorge Hildago has lived in  Tarrytown for twenty years and has been involved with auto detailing for many of those years. Before moving his business to Sleepy Hollow, Jorge, affectionately called "Magoo" by his friends, owned and operated Magoo's Auto Detailing & Car Wash in Portchester. He offered a wide range of services to keep cars, boats and motorcycles in tip top shape, shiny and new inside and out.
With his move to 281 North Broadway in Sleepy Hollow, Magoo's Auto Detailing continues to specialize in cars, boats and motorcycles. Exterior detailing to include washing, compounding and a polish glaze wax removes light scratches, along with tires and wheels being shined. Interior detailing involves a car wash along with all carpets, mats, seats, door panels and trunks being cleaned, removing any odors and keeping a vehicle's interior appearance strikingly clean.
At Attention2Detailing we know how important your car is to you. That's why we go above and beyond to ensure that your vehicle looks it's absolute best.
Complete detailing, just like the one offered by detailing meridian idaho, to include the interior and the exterior of a vehicle, is yet another option. In short, Jorge "Magoo" Hildago offers something for every owner wanting to present their car, motorcycle or boat's appearance in the best light possible.
For further information call 914-909-0196 or 914-434-6739. Magoo's Auto Detailing Center is open Monday-Saturday from 8:30 am until 6 pm.