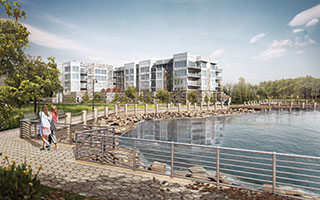 There is no denying it. There is a calming, almost spiritual draw to the river. Walk down to the Tarrytown waterfront near sunset and you will experience its character. It is this soothing quality and the peace of mind it affords, which has drawn us to the world's great bodies of water for centuries.
No longer mandatory for purposes of commerce, power and transportation, many waterfront workplaces have begun to evolve once more. We are seeing a healthy rise in the re-purposing of these former commercial landings into residential, social and recreational developments, each site with its own story to tell. Hudson Harbor is one such property.
At right, A rendering of Rivers Edge to be built in Sleepy Hollow.
Boasting a longstanding dockyard heritage as a landing point for many materials as Westchester developed in the 40's and 50's, Hudson Harbor has evolved to become an elegant and flourishing riverside community consisting of authentic brownstones, glass-encased townhomes, ample green space and health-promoting amenities. The river has begun to be respected for what it is: a tranquil setting with the power to promote a healthy state of mind. This is exactly what Hudson Harbor has been so successful in creating as it continues to unveil its latest phases of development.
Walking along the waterfront, or driving down to the train station, you may have seen the unique silhouettes of the Carriage Houses emerging over the past several months. Fourteen of these old-world inspired townhomes are now fully constructed and available for sale, with plans for thirteen more built the near future. What makes these homes so unique is their combination of historic exterior facades and open, modern interiors. Walking up to one of these homes in person is a memorable experience, as their confident stature and grand design give off an impressive vibe.  Once inside, a formal entryway opens up into a vast two-story loft with 20-foot ceilings and expansive Marvin windows, which allow light to wander throughout the home.  An open kitchen, which begs to be used as a centerpiece for hosting guests, flows seamlessly into the living room and a central staircase leads to the master suite, cozy third-story loft and several outdoor balconies.
These 27 Carriage Houses will be constructed in a square, leaving one acre of central space that will become a private garden, modeled after Manhattan's Grammercy Park. This unique amenity will be named Pembroke Park and landscaped by local Tarrytown-based firm Westover Landscape Design. The Park will feature abundant greenery, a central water feature and ample seating areas for relaxation.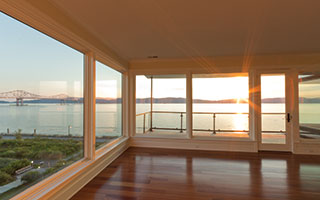 Lookout South's 42 waterfront homes have all sold and construction of Lookout North, its soon to be neighbor, is well underway.  Like its predecessor, Lookout North will offer luxurious one, two and three bedroom residences — 50 to be exact — with meticulously designed interiors and direct Hudson River views. However there are several features of this new building that will set it apart.  Every residence in Lookout North has been specifically designed to break down barriers between its indoor and outdoor spaces. With a higher ratio of glass than any other residence at Hudson Harbor and balconies that will nearly double in size, Lookout North promises to bring the magnificent natural beauty of the Hudson River Valley directly to these homes. In addition, Alan Tanksley, a leading New York City based designer, has been engaged to give these homes a more modern and Manhattan-inspired design and feel.
Lookout North will also become home to a limited number of ultra-premium penthouses, which will feature the most exclusive top-of-the-line finishes, added green features that will promote health within the home and the best waterfront views around. Look for pre-sales to begin on Lookout North's 50 waterfront homes at the start of fall season.
In conjunction with the start of construction on the New NY Bridge, Hudson Harbor has signed a lease with Tappan Zee Constructors to provide office space for the bridge's engineers, planners and management
personnel.  They will occupy the Cooney Building, allowing them to maintain a local presence and visually monitor the project from within their workplace. The nature of their occupancy will be strictly managerial in nature and will not involve the use, transportation or storage of any construction equipment or machinery.
On the Sleepy Hollow border, the former Castle Oil site is being prepared for construction. This waterside property will soon become home to Rivers Edge; a high-end, 60 home, residential mid-rise. Much like the upcoming Lookout North, River's Edge will provide its residents an extremely intimate connection with the river and seamless access to an expanded RiverWalk trail. This project is still in its early stages; carrying an estimated completion date of December 2014 and further details will be soon to follow over the coming months.
Hudson Harbor has a very interesting story to tell so far, and the final chapters have yet to be written.
For more information on the developments in this story, visit Hudson Harbor on the web at www.HudsonHarborNY.com.