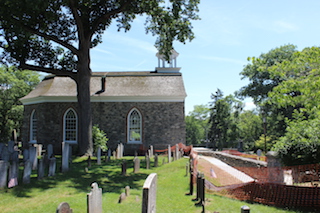 Construction of the Accessibility Project at the Old Dutch Church of Sleepy Hollow is nearly completed in time for summer worship services on Sundays beginning July 2 through September 3 at 10 am.  "After more than 80 years, we are finally able to welcome all to worship and visit the church," says the Reverend Jeff Gargano. The old steep, uneven steps made access to the church very difficult for some. The historic church attracts over 20,000 visitors a year especially around the month of October, and is also a popular wedding destination. The congregation of the Reformed Church of the Tarrytowns still holds summer worship at the Old Dutch Church, as well as special services during Easter, All Saints Day, and Christmas Eve. The Accessibility Project allows for easier and safer access to the church which includes a more welcoming stone twin stairway with an expanded landing at the threshold, handicap ramp leading to the church and burying ground, wrought-iron railings for the stairs, landing, and ramp, and landscaping with native plants to both enhance the appearance and act as an additional safety barrier between the church and Route 9.
Architect Joanne Tall of Kamen Tall Architects P.C. says, "Careful consideration of construction materials to match the appearance of the historic field wall, the slight flair of the stair and the gradual slope of the steps, and hand-hammered wrought-iron railings that do not have a heavily manufactured look, all diminish the mass of this new construction and ensures the preservation of this humble, beautiful 17th century church."
Over $250,000 has been raised to date from fundraising campaigns for the project, and generous donations and support from the community have made this project a reality. "While the Old Dutch Church is primarily a house of worship, it is also a National Historic Landmark and local treasure. Regardless of religious affiliation, local residents and visitors from all over the world have a great affinity and sense of possession of the Church," says Aubrey Hawes, President of the Friends of the Old Dutch Church & Burying Ground.
For more information about the Old Dutch Church of Sleepy Hollow or to make a donation, please visit www.rctodc.org or call (914) 631-4497.