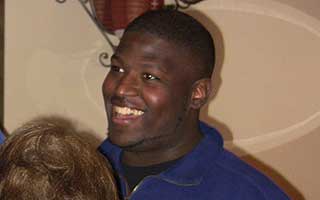 When football junkie Miles Banks from Peekskill suffered a life-threatening heart condition a few years ago, he wondered whether he'd live to see the Super Bowl. Now the 19-year-old New York Giants fan is not only healthy, but he'll be sitting in the stands during the Super Bowl this year in New Orleans courtesy of Make-A-Wish® Hudson Valley.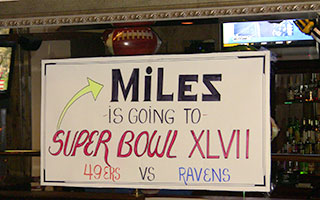 To kick off Miles' road to the Super Bowl, J.P. Doyle's Restaurant in Sleepy Hollow hosted a send-off party for family and friends at 6pm on Wednesday, January 28th. At right, Miles at his send-off party.
Miles and his family – mom Linda, dad Darryl and brothers Denzel and Ahmad  departed Thursday, January 31st for New Orleans, where Make-A-Wish® has arranged not only for them to attend Super Bowl XLVII, but also to attend the NFL Experience.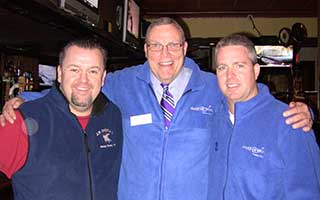 "I couldn't actually believe it. I'm such a huge football fan. I never thought I'd ever go to a Super Bowl especially what I've been through," said Miles.
In January 2011, he was diagnosed with dilated cardiomyopathy, an enlargement and weakening of the heart muscle.  Miles, a star athlete for Peekskill High School in football, lacrosse and track, was sent to Maria Fareri Children's Hospital at Westchester Medical Center for treatment.  His condition worsened over the course of several weeks and eventually suffered heart failure.  Miles was kept alive with a balloon pump that increased his cardiac output.  On April 28th Miles' condition worsened and his condition was grave. Two weeks later, Doctors miraculously found a match and performed a successful heart transplant.
Last year Miles started classes at Westchester Community College. He's playing basketball and working out again, and his weight has risen from 225 to 290 pounds.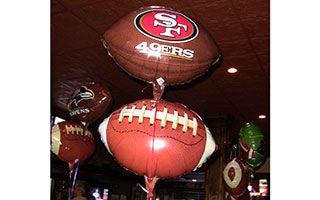 "Right now, I'm doing really good.  I've always wanted to go to the Super Bowl, and I'm really happy to get the chance. Even though I'm a big Giant's fan, I'm going to be going crazy," said Miles.
"Super Bowl wishes are a great example of the community spirit needed to grant every child's wish," said Thomas J. Conklin, President & CEO of Make-A-Wish® Hudson Valley.   "The contributions from the public play a vital role in helping the Chapter carry out its mission to grant the wishes of children with life threatening medical conditions to enrich the human experience with hope, strength and joy."
About Make-A-Wish ® Hudson Valley
Make-A-Wish® grants wishes to children with life-threatening medical conditions to enrich the human experience with hope, strength and joy. Since its inception in 1986, the chapter has granted wishes to over 2,000 children in the communities it serves. A primary objective is to make sure that every child eligible for a wish receives a wish. Although the child is the main focus of the wish, Make-A-Wish® involves the entire family so they can all enjoy a happy, carefree experience with no strings attached. This allows everyone in the family an opportunity to share in the child's dream and to fully participate in a positive wish experience. The wish experience is a combined community effort involving volunteers, staff, donors and medical professionals to make each wish come true. The Chapter serves Delaware, Dutchess, Orange, Putnam, Rockland, Sullivan, Ulster and Westchester counties.
For more information about the Hudson Valley Chapter visit www.hudson.wish.org.