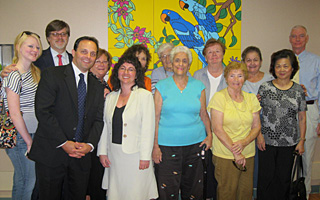 The unveiling of a mural, painted by members of the Irvington Senior Center, at St. Cabrini Nursing Home in Dobbs Ferry. Back Row: Caitlin Sullivan;  Tim Sullivan; Elaine  Soliman ; Esther Lippi; Joann Smith; Terry Sullivan; Carmen Palermo; William Boeckelman.  Front Row: John Moscati: Geri Mirtuono; Santa Russo; Sara Margaret De Paolo and Anna Li.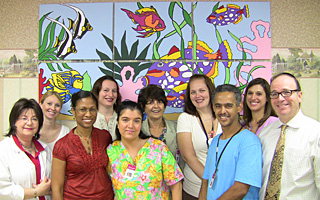 Staff at Tarrytown Hall Care Center: Sylvia Rosensaft, Lisa Kaplewicz, Brenda Gabriel, Laurie Racanelli, Jennifer Mazzetti, Maxine Kavanda, Amanda MacConnell, Luis Tavaras, Christine Falasca and Administrator, Ephraim Fischbein

Sunnyside Federal's John Moscati V.P. & Senior Lending Officer, Elaine Soliman Project Coordinator, Tim Sullivan, President & CEO. The mural was painted by the employees of the Bank.