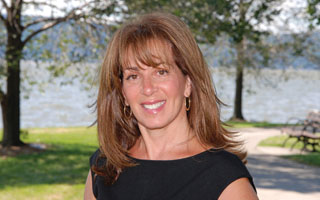 Seated opposite Irvington resident Cindy Kief at the Red Barn Bakery in late August, she exuded a sense of directness, clarity and confidence as she talked about her life as a single professional in New York City and later as a married mother in Irvington, still very much the professional.
She has lived in Irvington on and off for the past 17 years, having first come to the river towns with her husband and living in Tarrytown. She quickly learned that the beauty of seeing deer from her living room
window came with a price tag, namely, frequent trips to a nursery to replace the ornamentals. She moved to Riverview Road in Irvington in 1996 only to relocate to the new luxury home development – the Legends at Pocantico Hills – which turned out to not be in the Pocantico Hills School District. While living at the Legends she and her husband bought a piece of property on Riverview Road in Irvington (where they had originally lived) and built a home. In July of 2011 she moved back to Irvington and into her new home. "I consider myself a real rivertown girl and have experienced a couple of them," she said smiling.
Cindy Kief has six children, two of whom are from her husband's previous marriage and four from their current marriage. "I have twins who are thirteen, a nine-year old daughter, and a six- year old daughter. My twins are multiply disabled and not in a traditional type middle school. My nine-year old is going into fourth grade at the Main Street School while my six-year old will be attending first grade at Dows Lane.
When asked how she came into the real estate industry, she was quick to point out, "When my twins came along they introduced me to a new career. They were born in 1998 and I was in the television industry at the time. I was an executive at Universal Studios in New York City. I headed up their world-wide television division for reality programming. It's a very fancy way of saying that I was in charge of talk shows," she said. In addition to the United States, Kief had three talk shows in Europe as well, one in England, the other two in Germany and Holland. "When I was very, very young and before I knew the positions in the entertainment industry I used to say that I wanted to take unknown people onto television shows and make them known." She graduated from Emerson College in Boston and started first as a production assistant then moved to public relations and worked with all of the major television distribution companies. Her specialty became syndicated programming, and by her own account, "it was huge." Shows like Regis and Kathy, Hollywood Squares, Win, Lose or Draw and many others found Kief actively involved in their successes. "If you Google my maiden name 'Schneider' you will find all the shows I was involved in," Kief added.
Cindy Kief's life changed in 1998 with the birth of her twin boys delivered prematurely at twenty-seven weeks. "They suffered traumatic brain injury at birth. I had no idea what the impact would be on their lives and our life as a family," Kief stated. She tried very hard to stay with her career but the demands of a business that required her to be there from 9 am to 3 am the next morning if a show "crashed and burned," did not allow her to put her family first. "My children were in the neonatal intensive care unit for four months and when they came home it was even more of a challenge, and I had to take care of them. My
priorities shifted and I spent an entire year just focusing on their needs. It was my husband who finally said to me, "You really are much better at work than you are staying home, and the fact of the matter was I was an older mom who had worked my whole life. It was at his suggestion that I get into real estate," she added.
By any account she has been extremely successful as a river town realtor and has recreated a special niche for herself as a top producer, much in the same way she was in television. "I became a realtor as many people do as a second career that would offer control and flexibility with my time. As I got into it in April of 1999 it quickly became a resource for me and an outlet outside of the home, and I loved it. When I was a purchaser I had wanted a true advocate and not just someone literally opening doors for me and pointing to the living room to tell me that was the living room. I wanted someone to advise me and to be that objective participant so that they were focused on the bigger picture. The buyer's job is to love the home and see themselves in it. The realtor's job is to remain objective and counsel the buyer from an investment standpoint, and to think not just of a buyer's immediate needs but those of the future as well. Does the particular home serve those immediate and future needs?"
Kief quickly developed a following and had a very successful first year in real estate. "I really fell in love with it and in this area that's very easy to do, because I truly love the communities where I sell and they all  have their own personalities," she said. Not only did Kief work with prospective buyers; she also created solid relationships with developers and land owners. One such project – Emerald Woods in the southern part of Tarrytown – found Kief selling the actual land and representing the Unification Church. "A lot of developers lined up to build the homes, and much to our surprise the Church came back to us and said they would develop the property and sub-contract all the work out. I had experience in pre-construction when I bought my home in the Legends of Pocantico Hills, so I recommended to the Unification Church that they build one model home and sell the rest in pre-construction. It worked well for them and for the potential buyers who would want to customize their homes. When you want new construction you typically want what you want," Kief said convincingly. It allows homeowners to put their own stamp on a new home, according to her, and is a very successful method for purchasing a new home.
With the second phase, called  Gracemere at Emerald Woods, preparing to launch, Cindy Kief has brokered the deal for the sale of the land to developer Joe DeNardo of DeNardo Development, for the building of 7 new homes. "Joe and I have been working together for the past few years and we did the Hugh Hill project here in Irvington, which is spectacular," she added. What appeals to her is envisioning a piece of raw land and asking herself who is the buyer, what is the target market for the property. Each piece of property is different and each one is unique, and her skill lies in matching the profile of a piece of property with the needs of a buyer.
Never one to stand still for too long, Cindy Kief has recently moved her business from Houlihan Lawrence in Irvington to William Raveis Legends Realty Group, also on Main Street in Irvington. By her own report
she enjoyed her eleven years at Houlihan Lawrence and met Marcene Hedayati who was the assistant manager when Kief started working there. Hedayati went on to be a founding partner at Legends Realty which joined the William Raveis Group. "I had a wonderful eleven years with Houlihan Lawrence. I feel that there is so much growth happening now in the river towns and specifically in new construction. I was looking for an opportunity to grow that aspect of the business which I love and I was looking for a home base with the support of a large company, which is the Raveis Group. I have a long-standing relationship with Marcene and have the utmost respect for her," she concluded. According to Kief it has been Marcene Hedayati and Raveis that has allowed her to build on the business that she has started, and in Kief's eyes, growth and continued success remains her focus.