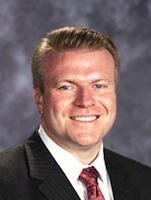 The Irvington Board of Education has announced that Kristopher M. Harrison will be appointed as the Superintendent of Schools on Thursday, February 16th.
Harrison is currently the Superintendent of Schools in Mendham Township School District, N.J., a position he has held since 2008. The appointment will be effective July 1.
Speaking for the Board, Dawson said: "We are extremely pleased that Dr. Harrison will be joining the Irvington School District as superintendent. Dr. Harrison impressed the Board with his vision, innovative thinking and hands-on approach to education leadership. His track record in the Mendham School District reflects his emphasis on student achievement."
Harrison is looking forward to the new post. "I am thrilled to have the opportunity to join a district that is so rich in history, support and success," stated Harrison. "Together with the talented school staff, the dedicated Board and the supportive community, we will strive to expand opportunities for our students while continuing to serve the Irvington School District proudly."
Prior to his tenure at Mendham schools, Harrison was Principal of Maplewood Middle School in the School District of South Orange and Maplewood, N.J., from 2004-2008. MMS has been recognized as a "Benchmark School of Excellence" by New Jersey for its students' scores on standardized tests.
His prior positions included principal, assistant principal and classroom teacher, beginning in the Walter O. Krumbiegle Middle School in Hillside, N.J., in 1994.
Harrison holds a doctoral degree in Educational Leadership from the College of Saint Elizabeth (2011) as well as a master's degree in Education, Administration and Supervision from Rutgers University (2000). His bachelor's degree is in Elementary Education/Sociology from Kean College of New Jersey (1995).
His certifications include New Jersey Principal, School Administrator and K-8 Teaching.
The search for the vacancy commenced in September after the announcement of the resignation of the previous superintendent, Kathleen Matusiak, over the summer. Since August, Dr. Robert Roelle has served as Interim Superintendent.
The Board engaged the services of Hazard, Young, Attea & Associates (HYA) to conduct the search. "We are more than pleased with the outcome," said Dawson.
Working with HYA, the Board solicited community input about the search and adopted a profile of the new superintendent. "The process was smooth and this announcement has happened exactly according to the schedule we shared with the community last October," continued the Board president. "Dr. Harrison is the right choice for our district, and we look forward to his leadership in taking our students to the next level of academic achievement."
The Board of Education meeting to appoint Dr. Harrison will be held Thursday, Feb. 16, 6p.m. at the Irvington Public Library
Members of the community are encouraged to attend the meeting. A brief reception for Dr. Harrison will be held immediately following the meeting.