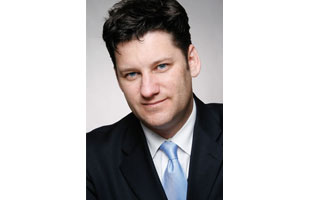 Scott Aaron is a partner with the Continuum Company and has been with them since 1996. By his own account he is a developer. "We have had a long history of doing different projects, and the Continuum Company, over a thirty year period, has created in excess of 11,000,000 square feet in the form of office space, hotels, timeshares, residential rentals, residential condominiums and retail space," he said during a recent interview in Irvington. He went on to add that, "Continuum typically builds 'best in class.'"
He offered as an example the South Beach project in Florida which was widely regarded as the best condominium project in the State. When asked who rated that particular Continuum project as the best, he answered, "The market decided that. Our condominiums on that property were consistently the most sought after and the highest priced condominiums on the Beach." The two tower condominiums were completed in 2007.
When asked to make the connection from South Beach in Florida to an assisted living and memory care facility in Irvington, Aaron said, "In 2010 we started to look at the assisted living platform. We looked at over one hundred properties and there were three or four in Westchester that worked. One of them was Irvington's Foundation for Economic Education (FEE) at 30 South Broadway.  The demographic trends in Westchester were such that senior living and assisted living needs were severely underserved, not only in Westchester but in Fairfield County, Connecticut and out on Long Island as well. We also looked at the population make-up, and in Irvington specifically, 25% of the population was over the age of 55. That percentage pertained to two groups with regard to assisted living. You have the caregivers or children and the potential residents," he said. "As we developed the model of getting into the assisted care business one issue became very clear to us. First, unless you have a 'first class' operator you shouldn't be in this business. It requires a combination of a high level of real  estate development expertise and the abilities of an experienced operator to  create a first class Assisted Living Residence," he said.
The first thing we did was to bring Meredith Brake into the Company as our Chief Operating Officer (COO). Meredith's background is significant. She is the former Chief Financial Officer and Co-President of Sterling Glen Assisted Living. She is one of the most respected executives in this business," Aaron added.
The project Continuum is presenting to the Village of Irvington is their first entry into the field of long term care for seniors and the elderly. "The Assisted Living industry can be done two ways. You can outsource what you want done with the help of another company or you can do it yourself. As the COO of this project, Meredith Brake and Continuum have committed to a development layout that best serves the needs of the residents and the day-to-day operations of the staff. "We want this facility to be user friendly to the people who live there," Aaron said.  Continuum is currently under contract for two additional assisted living and memory care facilities in Westchester although they have yet to submit applications to the towns where the properties are located.
One location is on Grasslands Road in Mt. Pleasant and the other Aaron would not identify due to the seller wanting to maintain privacy at the current time. Outside of Westchester, Continuum has another project in its initial stages in Trumbull, Connecticut. "We are consulting with the town of Trumbull as to what our potential site plan might look like," Aaron said. "Like we did here in Irvington we like to work with the town or village first and show them how the project will look. We also meet with emergency services as well so we know what we can and cannot do," he noted. That coordination with Village officials and emergency service providers has also been extended to residents who live around the FEE property. According to Aaron, he himself has held several meetings with residents in the adjacent neighborhoods, and expressed confidence that these gatherings had considerable benefit in answering questions about the project and dispelling fears or misstatements surrounding the assisted living project.
When asked how the Continuum project would be structured with regard to fees for its residents, Aaron answered, "There are typically two methods used in the industry: the buy-in model and the rental model. We think that the buy-in model puts undue pressure on potential residents financially or the residents' families. Based on the current economic times we have decided that our buildings will be rentals with a twelve-month lease from year to year. People will be able to move in with basically one month's rent." Continuum will offer multiple price points based on the type of rental unit. Although exact pricing was not at his fingertips Aaron quoted the figure of $4,000 for a typical rental unit per month. "The rent will vary from building to building. Continuum will also offer what they term "shares" which are units that have two bedrooms, two bathrooms, a shared living room and a kitchenette. These units could be priced at $3,000 per month per resident," he said. Continuum has anticipated five different layouts within their buildings that will provide a wide range of lifestyle choices. In addition the monthly rental fees are all-inclusive for meals and amenities. One of the amenities is transportation for residents to visit their doctors. Continuum will have registered nurses and a wellness center on-site. Additionally, there will be a small bus to take residents into the Village of Irvington for shopping or dining.
Continuum has noted that roughly 65% of their residents would come from a 10-mile radius surrounding Irvington. That's an industry standard. "There are some very good assisted living centers in Ossining and Briarcliff that have been an asset to their community. Irvington has great access to the train and Route 9 plus I-287 east and west. Understanding how people move around Westchester we feel that Irvington is a great place," Aaron said.
In speaking with Irvington officials, a strong case was made for how exacting the Village has been in considering Continuum's assisted living proposed project. Roughly one year ago in May of 2011 Continuum requested a zoning change to accommodate their project. The FEE property at 30 South Broadway is zoned multi-family (MF) and Continuum has requested a modification of that zoning. The Board of Trustees (BOT) sent the request to the Planning Board who designated themselves as the lead agency for the State Environmental Quality Review Act (SEQRA) process. An environmental impact statement will be prepared by the Planning Board (which is currently holding public hearings) and a declaration of those findings will be presented to the Board of Trustees. That declaration will assess what environmental impacts (if any) the assisted living project will present and how those impacts can be mitigated. The Mayor and Trustees will then determine whether or not to modify zoning regulations that would enable Continuum to proceed with their project. The Village of Irvington has provided an in-depth look into the process concerning the assisted living facility on its website, www.irvingtonny.gov. No time frame has been given for a final determination.