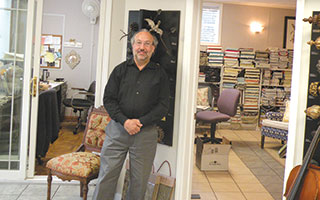 Brooke Astor, David Rockefeller and The Vatican Embassy have something in common; all of them hired Randy Sarna of Briarcliff Interiors to decorate their residences. Randy has embellished the homes of many high profile clients, many whose names he will not reveal in order to protect their privacy.   He has worked as a decorator at Briarcliff Interiors since 1991 and he purchased it in 1996. Coming from a background in the clothing industry, Randy found a natural niche — specializing in drapery, window treatments, wallpaper, carpeting and upholstery.
In 1995, Randy was contacted by the Embassy of the Vatican to refurbish the Pope's residence in preparation for the visit to New York by Pope John Paul II.  Located in a $17 million neo-renaissance Upper East Side town-house (it was donated to the Church) the residence is palatial with a spiral staircase in the center.  Randy was inspired by the Vatican Coat of Arms and he recreated it in the form of a rug with its exact colors. They had to research protocol, as certain symbols, such as a cross, could not be used in the rug where it would be walked upon.
Despite the somber milieu and high security of the Pope's residence, there were some lighter moments. Once when Randy was double parked in front of the building, a policeman got out his pad to write a ticket, and a nun flew out of the building, "waving at the policeman and screaming at him in Italian."  Pope or no Pope, Randy still got the ticket.
Another time, he was invited to join the Pope at a ceremony in the City. Randy had to decline because he was attending a Passover dinner with his children. As he got stuck in hopeless traffic on the Triboro Bridge he realized that it was due to the Pope's entourage.  If he had agreed to go with the Pope he might have made his Passover dinner in time.  Randy went on to refurbish the residence a second time for a visit by Pope Benedict in 2008.
Randy also did work for Brooke Astor at her Holly Hill home in Briarcliff.  Sadly, he was in the middle of working for her when she died. According to Randy, she always looked elegant when she would come to visit his store, which she did from time to time, just to say hello.  Even though she was in her nineties, she dressed in full make-up and heels and always had her dogs with her. The rotunda of her home was filled with portraits of dogs. After her death, Randy was given some of Mrs. Astor's stationery to give to another client who had been enthralled with Mrs. Astor for years. She was thrilled to have a memento from this elegant lady.
When he worked for the David Rockefeller estate, he found it remarkable that everything in the house had meaning and value: a book on a bedside table was signed by Winston Churchill; an ashtray was an irreplaceable antique.
In addition to very wealthy  clients, much of Randy's business is from repeat customers who want to re-create their homes, with beautiful window treatments, carpeting, custom area rugs or wall coverings.
Randy works with a friendly, knowledgeable, and professionally dedicated staff. The economic downturn affected him as well as everyone else in the  interior decorating field. The industry is one based upon "discretionary income." He stated, "There is nothing in my store that anyone needs, but there are lots of things that people choose to want."
During economic swings, a person's home is their refuge… and a beautiful, personalized surrounding lends comfort and stability to one's life.  A home is where you connect with life's most important assets.