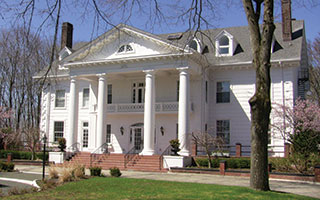 Haymount House, the historic property located in Briarcliff Manor, is celebrating a one-year anniversary after undergoing a complete floor-to-ceiling renovation last year. Haymount House operates a farm-to-table restaurant, Hudson at Haymount House, and has become the "go to" venue for weddings, fund raisers, corporate and social events.
The new Executive Chef is Bruce Beaty, formerly the opening Executive Chef at the "Red Hat On The River" in Irvington, from 2007 to 2012.  Chef Beaty's style was honed at some of the finest restaurants in New York City and abroad: the "Gotham Bar and Grill," under Alfred Portale, " Le Bernardin," under Gilbert LeCoze, "Jams" under Jonathan Waxman, and the Parisien restaurant "Michel Rostang." His cooking  reflects myriad styles such as California farm-to-table, new American, traditional and modern French.
Chef Beaty intends to emphasize flavorful fresh ingredients, while maintaining approachable prices, so that customers feel as comfortable coming in for a casual burger and glass of wine, any night of the week, as for a full fine dining experience. There will be a dining room menu and a casual, fun bar menu, both of which can be ordered anywhere in the entire restaurant, including an outdoor patio overlooking beautiful Hudson River sunsets. He plans to oversee that the front of house service will be as important as the food itself. He stated that "a perfect meal should be a seamless combination of great food served in a timely fashion, a relaxing setting with impeccable service to match."
Sample dishes include: Brick Roasted Free Range Chicken, Grilled Montauk Swordfish with Meyer Lemon and Olive Relish, a signature Haymount House Chopped Salad, Homemade Pappardelle with a Rabbit Ragu, Black Truffle Mac and Cheese, PEI Mussels steamed with Merguez Sausage and a Pan Seared Steakhouse Style Rib Eye Steak with Mascarpone Creamed Spinach and Vidalia Onion Rings.
Bar menu items include: Asian Style Shrimp Cocktail, the classic Haymount House Burger, Grilled Swordfish Tacos, Korean Barbecue Pork Skewers, Gingered Chick Pea Puree and Eggplant Caponata, and Grilled Marguez Sausage with Homemade Harissa.
Live Jazz and Blues will be offered on Thursday nights until 11:00pm, which is also Ladies' Night, and a late-night Happy Hour from 10:00pm to 12:00am on Friday nights. ©