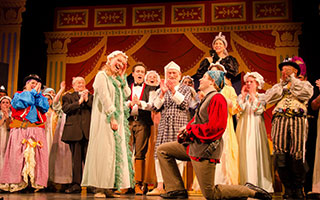 The momentarily darkened stage suddenly came to life.  The University's Gilbert and Sullivan Society had just ended its final performance of the University of Michigan's Lydia Mendelssohn Theater's production of Pirates of Penzance and the curtain calls proceeded at a fast pace.  Dressed in a Victorian-era floor-length cap and gown, Alexandra (Ali) Kahn from Briarcliff Manor glided on stage to take her bow. Playing the lead role as Mabel, there was a thundering roar of applause from the packed theater in appreciation for the talented soprano.
This last performance was a bittersweet moment for Ali, attending the University of Michigan where she graduated this spring with dual degrees–a Bachelor of Musical Arts in Voice Performance and a Bachelor of Business Administration from the Ross School of Business. Her parents, David and Diane Kahn, along with her sister Samantha and grandmother were seated in the second row of the audience. As Ali graciously curtsied to the audience, one of the dashing pirates broke rank and addressed the theatergoers. After explaining how he had come to fall in love with Ali, he dropped to one knee. It was her boyfriend, Jonathan Roselle (Jon) and there on the stage, in front of her family, friends and lots of strangers, Jon asked Ali to marry him. Jon, a native of Ann Arbor, had already graduated from the Ross School of Business in 2009. Hidden among the pirates was his father while his mother looked on sitting in the audience.
Ali Kahn graduated from Briarcliff Nursery School, the Todd School and Briarcliff High School. By all accounts, she took advantage of everything Briarcliff Manor had to offer.  She went to the Briarcliff summer camps, participated in the summer reading program at the library and was very involved with extracurricular activities. She believes that the Briarcliff Schools had a major impact on her life: "I actually was thinking about Briarcliff when I was at UM graduation.  I remember sitting in the stands in the Big House (Michigan's football stadium) thinking about how many thousands of people were graduating with me and how small I felt in comparison. You sit there at graduation and you know you've accomplished so much, but you don't know the administrators that are making the speeches, you don't know the class speaker and you definitely don't know the students next to you.  Briarcliff was so different from UM.  At Briarcliff High School's graduation, I knew every single person that walked across that stage; where they lived, who their parents were, maybe even a memory I had of them from childhood.  When the teachers processed, I had memories in being in most of their classes and felt like they would really miss me.  In Briarcliff schools, you're a big fish in a small pond.  It's very easy to feel like an individual and feel like your accomplishments are recognized in Briarcliff High School's small, positive atmosphere.  I think one of the most important things Briarcliff gave me was the confidence to take that individuality into a huge place like the University of Michigan.  Without that initial sense of self, it's very easy to get lost at a big university. Growing up in Briarcliff taught me how to make that big university feel small by finding little communities where you could feel unique and important again.  That's one of the main reasons I did so much theatre with the University of Michigan Gilbert and Sullivan Society — it was a place for me to be part of a community that I could thrive in."
Ali first 'graduated' from fifth grade to the Middle School in its Moving Up ceremony. This year, Briarcliff will hold its Moving Up ceremony for fifth graders going from the Todd School to the Middle School on Thursday, June 20th, at 9:00 am. Initial insurance issues have been resolved and the ceremony will proceed as planned.  According to Todd Elementary School Principal Nadine McDermott:
"The fifth grade moving up ceremony is a time to celebrate students' first milestone in their educational journey. This fifth grade class at Todd is talented academically, musically and athletically. The leadership potential among this grade is noteworthy.I wish them all the best as they move on to the middle school."
From Todd fifth grader Elizabeth Madden: "Todd School was the first taste I had of life and Middle School will be the next."
The eighth grade moving up ceremony will be held on Tuesday, June 18th, at 7:00 pm at the Francis G. Wells Auditorium.  The High School Graduation will be held on Thursday, June 20th, at 7:00-9:00 pm at Pace University on the Pleasantville campus.
Briarcliff High School Assistant Principal Debora French commented: "Jim Kaisian (Principal) and I feel very close to the Class of 2013.  They have set a wonderful tone in the building and have served
as positive role models for the underclassmen.  They are mature, respectful and take great pride in their school. They have accomplished and committed much in and out of the classroom."
From Briarcliff High School Class of 2013, Student Government Co-President Jessica Post: "Briarcliff High School has been a great experience for me. I had the opportunity to grow individually as well as with my peers. My teachers have encouraged me to maximize my capabilities as a student and exceed my goals. I have thoroughly enjoyed my time at Briarcliff High School and hope to carry my experiences with me as I enter a new stage in my life."
Ali Kahn certainly carried her experiences of the Briarcliff schools to the University of Michigan. Recently hired by Price Waterhouse in New York City, she begins her career as a CPA.
Oh, and by the way, she said yes to Jon's proposal and he will be relocating to New York with her this summer. As her mother Diane says, "I could not ask for a kinder, smarter or handsomer son-in-law; he brings out the very best in Ali."
Who knows what the future will bring?  But for now, Ali has the best of Briarcliff Manor supporting her all the way.