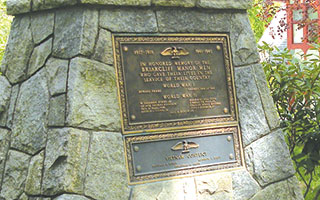 In the early 1900's in Briarcliff Manor, Memorial Day was not celebrated as it today.  As was the tradition in most communities, Memorial Day was a simpler holiday, with parades and community events reserved for the fourth of July. Briarcliff Manor held a Fireman's Parade each year in June where you saw the bands and the fire equipment marching down Pleasantville Avenue.
Memorial Day, for the most part consisted of families going to the cemeteries and bringing large picnics. They would spread out a blanket and an elaborate meal, spending the entire day, planting flowers and socializing while the children played.  According to the 1909 Briarcliff Outlook: a typical meal, derived almost entirely from locally grown food, included a smooth creamy soup made from pureed vegetables, browned trout fried in butter and garnished with small potato cubes, roast chicken, corn, radishes, hard-boiled eggs, swiss chard in a currant sauce, blackberry pudding and apple and raspberry pie.
As time went on and more wars were fought, residents wanted to honor the military men and women who gave their lives, in a more ceremonial fashion. The Briarcliff Manor American Legion Post Number 1054 began August 28, 1931 and they have sponsored Memorial Day parades in Briarcliff ever since.
Eight roads in Briarcliff were named to memorialize Veteran casualties from World War I and II: Zuydhoek Road (first Lieutenant Paul B. Zuydhoek, killed in Germany, 9/25/1944), Fountain Road (Lieutenant George Thomas Fountain, killed at Aachen, Germany, September 17, 1944), Hall Road (Lieutenant Percy Meredith Hall, Jr., killed May 22, 1944), Quinn Road (Sergeant Arthur J. Quinn, killed in Germany, March 27, 1945), Frame Road (Private Howard Frame killed in WWI), Schrade Road (John F. Schrade III, Seaman first class, turret gunner, killed by a plane explosion, Norfolk, VA, May 31, 1944), Matthes Road (2nd Lieutenant Charles H. Matthes, Army Airforce, lost over the North Sea, July 26, 1943), Hazelton Circle (Lieutenant Colonel Paul H. Hazelton, Army Air Forces, killed August 1, 1943).
Additional casualties include Ernest Van Lu Van, (World War I) W. Sherman  Burns, Jr. (World War II), Benjamin Carl Dunn (World War II), Randall Purdy (Vietnam), Kenneth Hirst (Vietnam), and Jonathan Shine (Vietnam).
By 1945, Girl and Boy Scout troops were marching in the Memorial Day Parade. The first Girl Scout troop had been formed in Briarcliff Manor in 1917 by Mrs. Alfred Jones and Miss Louise Miller, and the earliest record of the Boy Scouts in Briarcliff is 1919. Some sources named Bill Buffum as the first Scoutmaster and John Hersey as the first
Eagle Scout.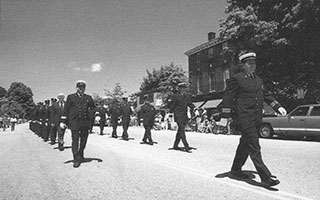 The parades, which have included our Scouts and proud veterans, have lead up to the war memorial monument in Law Park where wreaths are traditionally laid on the monument.  The monument is located between the library and the pavilion.
A memorial window in the Congregational Church has an inscription honoring those who died during the Spanish American War of 1898, "In Memory of the soldiers and sailors who died in the War with Spain, 1898." The upper section reads, "to undo the heavy burdens and to let the oppressed go free." (Isaiah 58:6)
Memorial Day in 2013 has come to mean more than just honoring veterans. It has come to mean undoing the heavy burdens of winter, of life in general. If you ask a Briarcliff school child they will probably agree with the idea of letting the oppressed go free, more in terms of school being almost over and pool season beginning. This has been a tough year for Briarcliff, certainly not war tough but Hurricane Sandy tough, economy tough and school budget tough. Kids are overwhelmed and exhausted with school and sports.
We are ready for a familiar ritual to mark a transition into something lighter, something easier, something freeing.  We have traditions in Briarcliff, some old and familiar, some new-ish.
One of the newer and increasingly more popular Briarcliff traditions is the "Briarcliff Has Heart" Memorial Day walk/run. This will be its sixth year raising money to support the Briarcliff Library. It is a great way to start the day early doing something fun with the whole family, something healthy (burn off the barbeque calories in advance), and something for a good cause (burn off those community service requirements for high school).  This year Club Fit will be holding pre-race warm ups so be sure to get there early, especially if you haven't pre-registered on-line.  You can register on-line at http://bmplfriends.org/regisister.html.  You will have to register beforehand and the walk/race starts promptly at 8:30 am at the Law Park Pavilion.  All ages are encouraged. It is a great way to meet new people.
After the race you can grab a bike and head down the bike trail behind the library or you can go to the pool or play tennis in Law Park. The pool opens on Memorial Day and is open from 11:00 am to 6 pm on weekends only until June 7 when the schedule changes. Check the Park and Rec website for more details. Be sure to get your pool and tennis passes before you go. The Recreation office number is 914-941-6560.
This is a good opportunity to maintain the tradition of having a large picnic with your family in Law Park. The parade usually begins around noon   and ends in Law Park where there is a ceremony at the War Memorial. The timing depends on the weather but in case of inclement weather, the ceremony is scheduled to begin at 12:15. When it is over, there are plenty of places to spread out a blanket in the park and have a picnic. In fact, large, and often elegant picnics were referred to as "spreads" in the late 1800's.