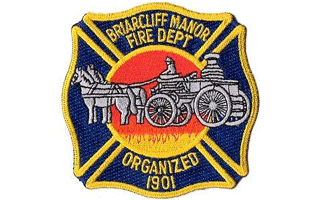 The Briarcliff Manor Fire Department reached out to residents who lost power due to Hurricane Sandy by offering them a warm respite over the weekend. On Friday, BMFD Chief Michael King said they hope that most Briarcliff Manor residents will have power back sometime within the next week.
In the meantime, the BMFD opened their Central Fire Headquarters at 1111 Pleasantville Road as a warming center and station for residents to recharge electronic gear over the weekend.
The fire department hosted "Movie Nights" Friday and Saturday from 6-8 p.m. for elementary school aged children and 8-10 p.m. for middle and high school students.  The idea was to help families without power get out of the house and enjoy themselves for a bit.
"Everyone must be getting stir crazy in their homes without power, so we opened up our home" King said, adding that the offer was open to anyone who wanted to attend, not just to those who lost power.
King said the damage from Hurricane Sandy was severe in comparison to past storms. "We had almost every major street from one side of the village to the other closed at some point," he said.
The most dangerous aspect of this storm, King said, was the number of fallen trees across the village. King said the fire department has received close to 70 calls since Monday night, a remarkably high volume. He said that 10 of the calls were in relation to fallen trees.  Usually, King said, in a snowstorm or severe rainstorm, two or three calls will come in for fallen trees.
"We went to a house where a fallen tree destroyed a bedroom, another home had one right through the middle of their living room," King said.
These calls were particular dangerous in cases where a fallen tree knocked a gas line out.  King said they responded to an emergency situation in which a tree knocked out a gas line and the fire department had to "get the levels down" to avoid an explosion. Another tree came down between the BMFD building and Atria Senior Living on Pleasantville Road.
King, who has been with the BMFD for 13 years, said the weather has been unusual for the past eight years.  "Floyd was pretty bad, but this one was probably the most dangerous for the firemen," King said.
According to King, Central Drive incurred the most damage from fallen trees.  The firemen surveyed the area to create alternate routes to get into the neighborhood in case of a house fire, since the normal routes are not accessible for fire trucks. It could be really devastating if alternate routes were not established, King said.
As of this weekend, King said, 80 to 85 percent of the roads in Briarcliff are open again.
In a message to Briarcliff Manor, Village Manager Philip Zegarelli urged residents to use judgment and proceed with caution until the roads are cleared.
"With stepped up Con Ed and other company assistance we are working to open the remaining 12 plus roads still blocked. Again, electric lines are not to be touched.  People continue to drive over downed wires that may still be live… this is crazy. Plan alternate routes as you need to leave and return to your home," Zegarelli said.