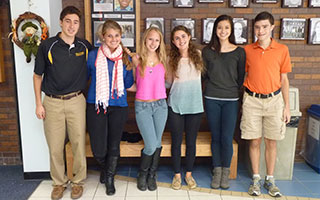 Briarcliff High School is home to seven National Merit Scholarship semifinalists and 11 National merit Commended Students this year. These students have been selected for this honor based on their Preliminary SAT/NMSQT scores. Approximately 1.5 million students across the nation participate in the National Merit Scholarship Program every year, with a pool of roughly 50,000 qualifying for recognition.
At right, Seven Briarcliff High School seniors have been named National Merit Scholarship semifinalists: (from left) Eric Wasserman, Laura Birnbaum, Miranda Bramson, Lindsay Harris, Ellie Underwood and Joseph Pennacchio. Not pictured: William Hou.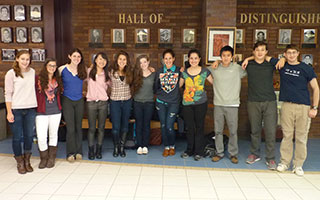 More than two-thirds of these students receive Letters of Commendation recognizing their outstanding academic promise, while approximately one-third of high scorers are named semifinalists. In February, the semifinalists will be notified of whether they have advanced to finalist standing, thereby becoming eligible for a Merit Scholarship.
At right, Briarcliff High School boasts 11 National Merit Commended Students this year: (from left) Alexandra Arminio, Isabella Florissi, Molly Charney, Rachel He, Sarah Goldstein, Claudia Price, Brooke Reiner, Jessica Daneshvar, Tong Li, Jordan Ross and Bryan Benson.