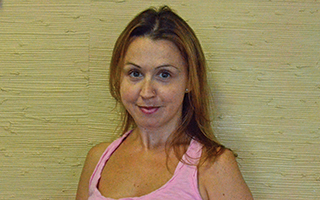 Rivertown Pilates has grown significantly in the year-and-a-half it's been open in Tarrytown. The studio has gained one more machine, two new programs and three instructors. Owner, instructor and founder, Ceres Opanowski is celebrating by offering two private sessions and two group classes for a reduced rate and has extended the offer through the end of September.
At right: Ceres Opanowski of Rivertown Pilates
Opanowski just started a children's program for those children from the ages of  8 to 10. "What's great is that whatever sports or hobbies they do play or have, this just makes them stronger," says Opanowski about her kids' classes.
She also created a build-your-own-class program. If the offered classes don't work for a client's schedule, clients can come in with at least two other people and create a class time that works for them.
"Compared to the studios in the area, as a boutique studio, we definitely can offer the most in personal service," said Opanowski. Rivertown Pilates keeps classes small, with only six people per class. Opanowski
explains, " Pilates is all about the quality of the workout, so small classes and detailed instructors make this studio one of the best. The new instructors have some of the top certifications.  It took a very long time to find them, because I do not let just anyone teach here."
Classes start with a warm-up and then clients go straight to the machines. "We went from five to six machines, which is huge for a startup business," said Opanowski.
For more information on Rivertown Pilates class times, prices and memberships, visit their website at www.rivertownpilates.com.