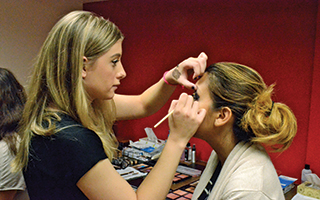 After ten years of teaching skin care, New York School of Esthetics in Tarrytown is celebrating with a special facial treatment which their senior students created. "Senior students eagerly researched and devised a custom facial to help their clients feel younger," said Joseph Mattimoe, Financial Aid Director for the school. "This ten-year anniversary facial is a reflection of their education, enhancement and excellence."
NY School of Esthetics provides skin care treatments like facials, microdermabrasion, chemical peels and waxing at reduced prices.  Katie Cassidy, co-founder with her mother Deirdre Sheeran, explained that clients only pay for the cost of the treatment.
"We're the ones training the people you're going to," said Cassidy of coming to the school instead of going to another spa. Cassidy said the students are so passionate about their work, "you don't get this kind of attention in a regular spa."
In the last decade, the School has become a federally-certified acccredited institution. Cassidy said being accredited means the students have very high standards to work up to, "so the students have to
perform better." In addition, the school has expanded, both in curriculum and space. The curriculum now includes microdermabrasion and teeth whitening.
"Every year for the last five years, at least one alumnus has been featured in the Best of Westchester," according to Cassidy.
For more detailed services, visit NY School of Esthetics online at newyorkschoolofesthetics.com/clinic
To make an appointment, contact the school via phone or email at: 914-631-4432 or director@newyorkschoolofesthetics.com .