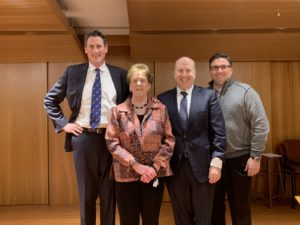 Kendal on Hudson, the first Life Care retirement community in Westchester County, announced that they are entering into a formal partnership with Pace University, a private university with campuses in Lower Manhattan and Westchester County. The reciprocal partnership will allow residents to attend classes and events on Pace campuses, and give students opportunities to explore careers, meet mentors and more.
"This is an exciting opportunity that expands Kendal's engagement with the mission-driven organizations in our community," says Jim Antonucci, CEO of Kendal on Hudson. "Providing opportunities for our residents to pursue their passions is an integral part of our mission, and by providing ways for our residents to be a part of the vibrant Pace community, we are opening new avenues for education of all kinds," noted Fran Kelly, co-chair of the Kendal Residents Education Committee.
Thanks to the new partnership, residents of Kendal on Hudson will have access to one class per semester, athletic events, and discounted admission to performances at Pace's Schimmel Center in New York City.  Kendal will also have access to some of Pace's New York City spaces for offsite marketing events. In return, Pace students will receive mentoring from residents and staff, career exploration and internship opportunities.
"At Pace University, we're proud to be part of the Westchester community and we're excited to build this relationship with our neighbors at Kendal on Hudson," said Marvin Krislov, president of Pace. "We specialize in giving our students a hands-on, real-world education, so we welcome the internship and mentoring opportunities at Kendal. More than that, we're happy to welcome the accomplished academics, entrepreneurs, and professionals who live at Kendal into our classrooms, adding their perspectives and enriching the academic experience for our students."
Partnership discussions began in April 2018 when Kendal on Hudson residents reached out to Pace University's Marvin Krislov. This kicked off an initial partnership with the community precepting interns from Pace's Health Policy and Advocacy Program, as well as nursing students from the Lienhard School of Nursing in Pace's College of Health Professions.
"This partnership is a testament to our resident-driven lifestyle," says Antonucci. "Our residents are the ones who spearheaded this initiative, and their hard work and dedication have paid off."