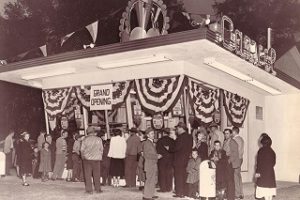 It was a hot Memorial Day in 1934, when a young Greek immigrant named Thomas Carvelas began traveling all over Westchester selling ice cream out of his ice cream truck. It was going well, as expected, until he came to 95 South Central Avenue in Hartsdale.
It was here that one of the tires on his truck went flat. Thomas had two choices, he could call for help and go home or continue selling his product where he was stranded. He chose the second option.
He made a few sales, and then suddenly, his hard ice cream started to melt. He thought this would be the end of his dream, but it wasn't. Much to his surprise, his sales increased dramatically because people loved the new softer ice cream!!
He was so successful that day that he decided to buy the land where he was stranded and set up a new soft-serve ice cream shop there. He called this shop Carvel, and the company's slogan was "A Happy Escape" (https://www.carvel.com/about-us).
Thus, Carvel was born.
At that time, Carvel sold 4 different flavors (personal communication from Patrick in Carvel's Guest Relations Department) This originaCarvel remained in business on this very spot until October, 29th 2008 when the business and the surrounding land were sold. Today Banzai's Hibachi& Sushi Lounge is at this location, but a plaque can be seen marking this as the spot of the first Carvel, and at every Memorial Day Parade the Hartsdale Fire Department commemorates the birth of Carvel by distributing free flying-saucer ice cream sandwiches.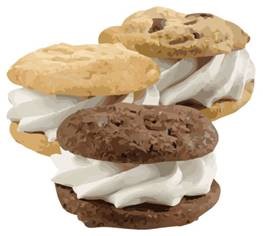 While the original Carvel no longer stands, Carvel still has a sizable presence here in Greenburgh, they have three locations:
419 N Central Avenue, Hartsdale, NY
262 N Saw Mill River Rd Elmsford, NY
666 Saw Mill River Rd, Ardsley NY.
Today, per Patrick in Carvel's Guest Relations Department, Carvel serves 34 flavors.
Apart from selling ice cream Tom Carvel also helped Greenburgh by being an active philanthropist. Some causes he contributed money to were: Jewish community organizations, Catholic community organizations, schools for disabled children and organizations which promote the welfare of the LGBT community.